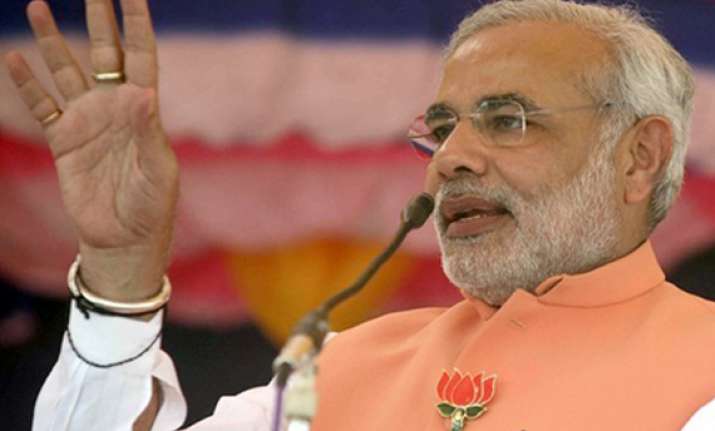 Srinagar, Jun 17: Union Health Minister Ghulam Nabi Azad today said the elevation of Gujarat Chief Minister Narendra Modi has "strengthened" the Congress while dealing a set back to BJP as its allies were running away.
"Modi's coming (to prominence) has become a danger not for us but for BJP. Congress has become stronger while BJP has disintegrated and its allies have run away," Azad told reporters on the sidelines of a function here.  Welcoming the decision of Janata Dal (United) to snap its 17-year-old ties with BJP-led NDA over the elevation of Modi as the saffron party's poll campaign chief, Azad said "I want to congratulate them for the move which came very late though.  
"I know Nitish Kumar and Sharad Yadav very well. They are secular people and I don't know what prompted them to join the BJP-led NDA at that time," he said.
Asked whether the Congress will approach the party to bring it into the UPA fold, the senior Congress leader said the question does not arise at this moment.  "Let us see how the situation develops in the coming months," he said.
In reply to another question about the possibility of third front, Azad said given the past experiences, the people of the country would not like to undergo the uncertainty again.
"We have had third front rule in the past...once the government lasted two years in 1977 and on another occasion, the Prime Minister had to be changed twice, H D Deve Gowda and I K Gujral, in 18 months. So I don't feel the people of the country would like another phase of uncertainty," he said.  
The Union Minister said there will be only two fronts before the next Lok Sabha elections - the Congress led secular front and non-secular front.
On the possibility of JD(U) rejoining NDA if Modi is removed from the post of poll campaign chief of the BJP, he said "BJP has gone too far and I think it is not possible for the party to go back."
On the reshuffle in the government at the Centre, Azad said he had proposed at the Jaipur session of the AICC that ministers should not hold posts like General Secretary and Pradesh Congress Committee Chiefs a year ahead of the Lok Sabha elections.
While the ministers have a job to do in continuing the good work on development front, the party office bearers also have to work on strengthening the party, he said referring to resignation of C P Joshi and Ajay Maken from the Union cabinet.
"Congress is not taking decisions while watching others...Congress is following its politics and the latest reshuffle is the outcome of that strategy," he said.
On the possibility of pre-poll alliance with National Conference ahead of Assembly elections in Jammu and Kashmir, Azad said no decision has been taken on the issue yet.