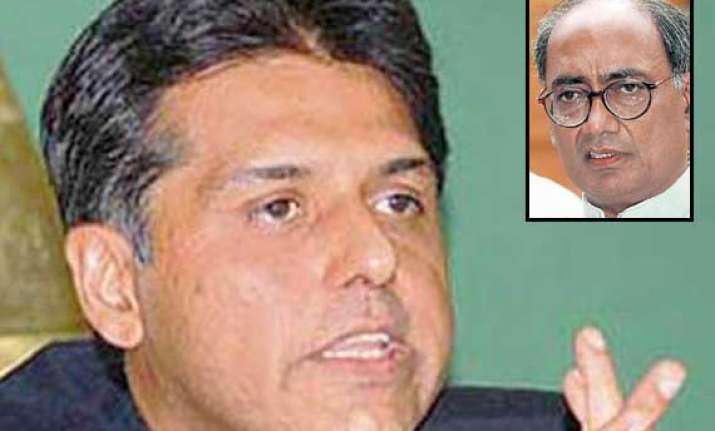 New Delhi, July 19: The Congress on Monday distanced itself from the party general secretary Digvijay Singh's remarks on the Rashtriya Swayamsewak Sangh (RSS), which he accused of making bombs and, possibly, being involved in last week's explosions in Mumbai. Party spokesperson Manish Tewari said, "It would be better if you ask him."

However, Tewari chose to refer to the Samjauta Express tragedy, for which Hindu terror groups have been held responsible.

"I would definitely like to underscore that the Samjhauta Express .. is a case in point where the involvement of certain individuals and certain organisations which have upward linkages have now been established through the investigative process."
 
On the death of a blast suspect in police custody in Mumbai,  Tewari said, "What happened with regard to the person who died in the police custody is most unfortunate. I think it should be properly investigated and if at all there is a custodial torture angle to it, which the Mumbai police are disclaiming, then all those who are responsible must be brought to book."

He also pointed out that custodial terror or violence in custody was an issue "which still has not come out of the closet," but that it needed to be "dealt with, deliberated and appropriate safeguards need to be enforced… We, as MPs, have to deal with [such cases] most on a daily basis in our constituencies."

To a question on Gandhian activist Anna Hazare moving the Supreme Court so that his agitation does not meet the same fate as that of Baba Ramdev, Tewari said, "It is a free country and anybody can knock on the doors of any court. But if you have not been a part of any political agitation, the fear of the police stick is natural. I think if he had been a part of a political agitation at any point of time, he would have liberated himself from that fear."
 
He also attacked Hazare, pointing out that those who held up the mirror of morality to others needed to see their own faces in that mirror also. The Justice Sawant Commission of Enquiry, he said, had raised very serious questions about the role of Mr. Hazare and his organisations.

"The question is not whether any government has acted upon it or not. That is entirely a different issue. The larger question is that when you preach morality or project yourself as a repository of all moral values, people have a legitimate reason to ask as to where you stand with regard to what Justice Sawant has said about you and your organisations in his enquiry report," he said.