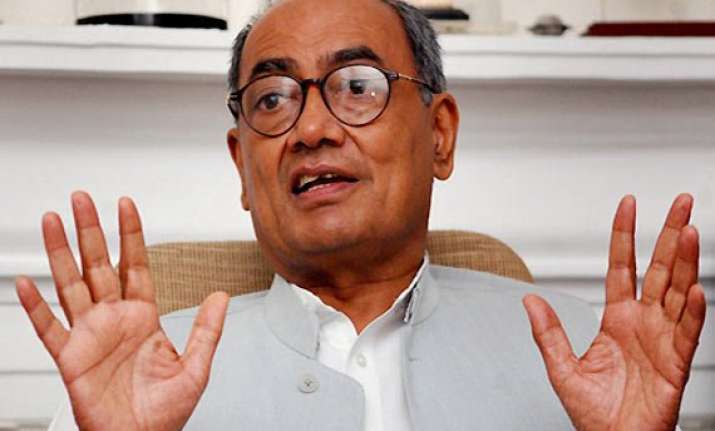 Chandigarh: Congress leader Digvijay Singh today said Robert Vadra was a private citizen who had every right to do any legitimate business he wants, and challenged the BJP to approach court "without any hesitation" on the issue of clearance of land deal by Haryana government.  Singh said that Vadra's name was raked up only during the polls to defame the clean image of Nehru- Gandhi family.  
Addressing a news conference here, the Congress General Secretary said, "What law he (Robert Vadra) has violated. If there is any violation then people (BJP) should approach the court.
Whenever election comes, Vadra issue suddenly emerges.  "Vadra's name is misused during election campaign and once the polls are over, the matter is closed. The whole idea is to use the name of Vadra for political purpose." Describing Vadra as a private citizen of the country, Singh said that he had every right to undertake legitimate business.
"He (Vadra) is a private citizen and a private citizen has every right to do any legitimate business and if he does something which is not legitimate, action should be taken against him.
"But, why should anyone be denied from doing a legitimate business just because he is related to a family which is political," he asked.
He was asked to respond to Union law minister Ravi Shankar Prasad's statement, who had yesterday charged the Bhupinder Singh Hooda government with not presenting full facts of the case before election Commission.  
BJP had petitioned the EC alleging that there was violation of the Model Code of Conduct by Haryana government in clearing the Vadra land deal.
Election Commission, however, yesterday ruled that there appears to be no violation of the poll code by Haryana government.
Taking a dig at Prasad, Singh said, "Prasad is a distinguished lawyer. He is the law minister of the country. I just want to ask him one question. He (Prasad) had been saying Vadra should go to jail. Would Prasad tell us under what law can he (Vadra) be sent to jail?
"Would Prasad, who has been using the name of Vadra to defame the clean image of Nehru-Gandhi family, please tell us if he is so agitated about the issue then why is he not filing a case against Vadra in the court of law."