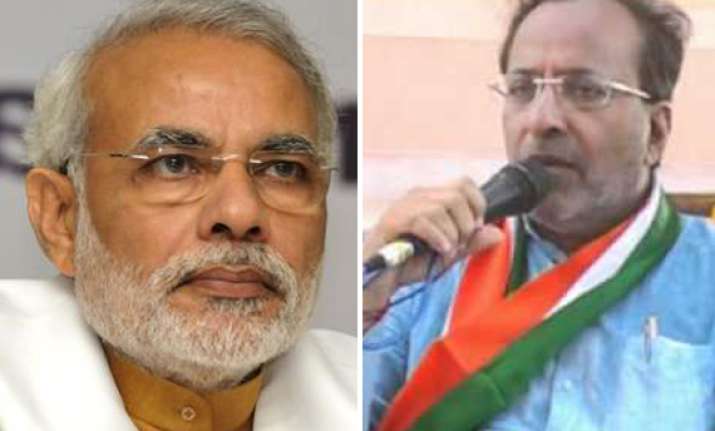 New Delhi/Surat, Jun 11: Stung by comparison to a sinking ship, Congress on Sunday night hit back at Gujarat Chief Minister Narendra Modi calling him a "political terrorist" and accused him of making wild allegations to divert attention from real issues in the poll-bound state.
"Modi is a terrorist in the political arena," Gujarat Pradesh Congress Committee (GPCC) president Arjun Modhwadia said in Surat while reacting to the speech by Modi at the state BJP's executive meeting at Rajkot, where he had criticised the Congress-led UPA government at the Centre.  
In Delhi, Congress spokesperson Manish Tewari said "the only boat that is slam dunked in water is the BJP because of all the loose canons that are rolling wildly at its deck."
The Congress attacked the BJP saying that it should answer questions related to its governance in Gujarat rather than target the Centre.
"It would be far more appropriate if they (BJP) answer the people of Gujarat on the substance of the charges rather than making wild allegations to divert attention from the real issues months before the Gujarat elections," Tewari said.  
He alleged that the CAG reports "indict the Gujarat Government on various counts of aberrations, malfeasance and corruption."
Targeting Modi over the ouster of Sanjay Joshi from BJP, Modhwadia alleged that the chief minister was "afraid" of his arch rival and that was the reason he put immense pressure on the BJP leadership and got him removed. 
Earlier in the day, Modi had in Rajkot attacked the UPA government saying it does not know that there was a "hole in the ship".
"Congress ship is sinking" as it has hurt and miscalculated human power, Modi said.