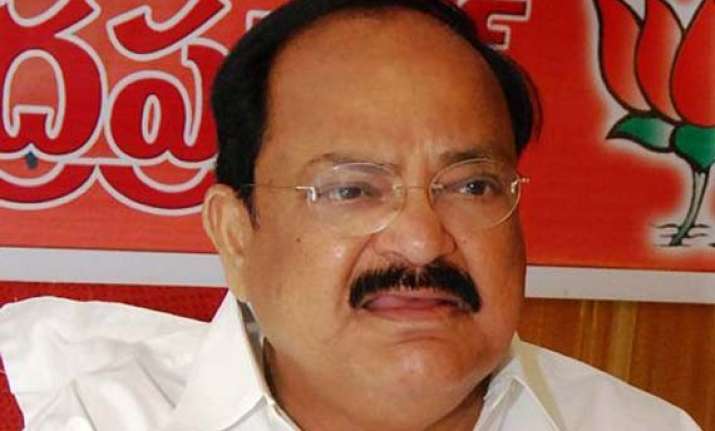 Bangalore: The Congress was dividing the country on the lines of minorities and majority with its appeasement policy for vote banks, said senior BJP leader M. Venkaiah Naidu Monday.
"The Congress is dividing the country with its appeasement policy for minorities at the cost of majority as evident from the suggestion its party chief in Karnataka (G. Parameshwara) made Saturday here that it was all right if the minorities did not repay loans taken from state-run financial institutions," Naidu told reporters here.
At a ruling party's workshop on schemes for minorities, Parameshwara alleged that several people who had taken loans cheated the government by not repaying them.
"The Karnataka Minorities Development Commission should sanction loans up to Rs.50 lakh. Never mind if the beneficiaries don't repay the loans, as many people and officials have duped government agencies of thousands of crores of rupees. It's a part of the development process," he had said.
Expressing shock over Parameshwara's advice, Naidu said the Congress was telling the minorities that they can also cheat the government because others have been doing all along.
"What advice Parameshwara is giving to minorities? That they too can cheat because others have been doing," Naidu contended.
Giving another instance of the Congress' appeasement policy, Naidu said state Law Minister T.B. Jayachandra had recently announced that the state government would soon set up fast track courts for minorities.
"Does he (Jayachandra) mean that majority of the accused or undertrials who are not minorities can languish in jails. Is the Congress a secular party as it claims to be so? Is this not yet another attempt to divide the people and the country for vote bank politics," he asked.
Referring to Union Home Minister Sushikumar Shinde's recent letter to chief ministers of states that no innocent Muslim should be harassed or arrested, Naidu said such a letter was not only unconstitutional, but also attempted to divide the people on religious lines.
"Shinde should have written no innocent person should be arrested. Is he the home minister of the country or for one community? Why is he discriminating the people on community basis," Naidu said.