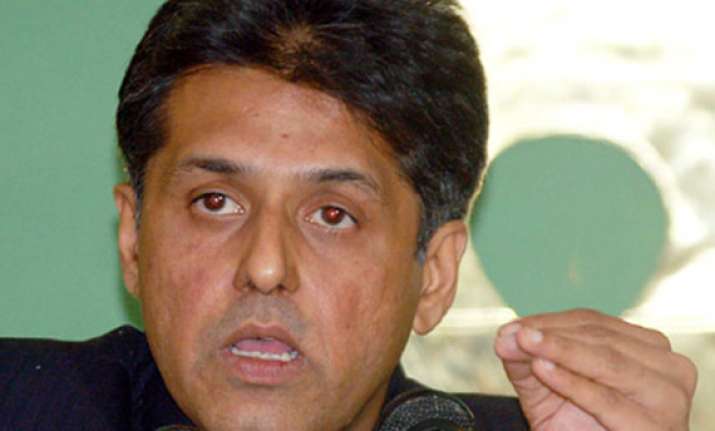 Ahmedabad, Dec 10:  In a veiled attack on Gujarat Chief Minister Narendra Modi, Union Information and Broadcasting Minister Manish Tiwari today alleged that the state BJP government has created "crony capitalists," not the 'new middle class' as it has been claimed.
"In its manifesto BJP has mentioned a very interesting thing that in past 11 years it has created a 'new middle class' in Gujarat...but in reality in past 11 years BJP has created a special class that is a new cult of 'crony capitalists' in the state," Tiwari told mediapersons at Congress headquarters here.
"BJP has given a new meaning to 'crony capitalism' by giving benefits of lakhs of crores of rupees to 'friendly industrialists' in the name of industrialisation," he alleged.
When asked about Modi's allegations yesterday in connection with Prime Minister Manmohan Singh's charge that minorities were feeling "insecure" in BJP-ruled Gujarat, Tiwari said, "The Chief Minister of Gujarat probably doesn't know how to read the speech of Prime Minister. If he had carefully paid attention to PM's speech he would have known that PM had talked about all the people of Gujarat."
"In the penultimate para of his speech PM has clearly said that if people of Gujarat will elect Congress government we will bring such a positive atmosphere in Gujarat where people of every section of the society can grow, develop and live with pride," Tiwari added.
"The PM very clearly, very explicitly articulated what was the very important view point. That was, that if the people of Gujarat with their wisdom give the mandate to the Congress, we will strive to build a prosperous Gujarat, a vibrant Gujarat which works for the people of Gujarat and not for some crony capitalists," he further said.
Singh, in his speech on Sunday in Vansda, Navsari, had alleged that people, particularly minorities were feeling insecure in gujarat.
Modi had taken a dig at PM by raising the issue of violence against the minorities in Assam, from where Singh has been elected to Rajya Sabha.