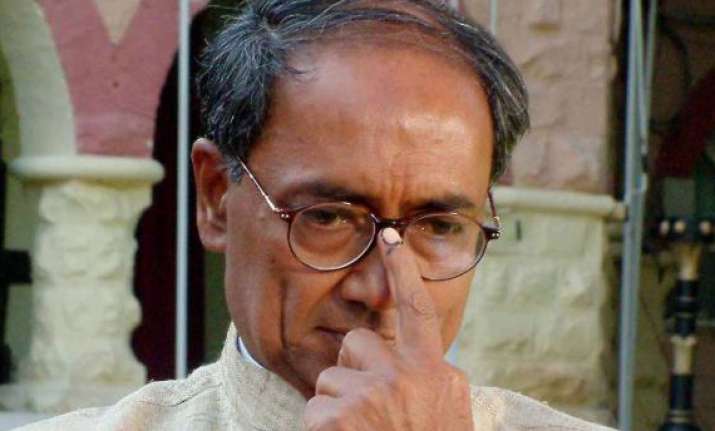 New Delhi, Jun 18: In a clear snub to AICC general secretary Digvijaya Singh for his remarks against TMC president and West Bengal chief minister Mamata Banerjee, the Congress on Monday said that he is "not officially authorized" to speak to the media.
"Digvijaya Singh is not officially authorized to speak on behalf of the party," the AICC said in a media release.
The statement comes a day after the Congress leader dubbed Mamata as "immature" and "erratic" and suggested that there is a "limit" to the patience of the party.
The development followed a series of television interviews by Singh in which he had suggested that the Congress will not go beyond a point to mollify Banerjee.
Singh is incharge of party affairs in Uttar Pradesh, where the Congress recently got a drubbing in assembly elections. He is also the incharge of Assam, where the party came to power for a third time.
This is not the first time that AICC has distanced or disapproved of remarks by Singh, including that on Batla House encounter.
"All efforts have been made to console her, accept her views, accept her tantrums...Beyond a certain limit, the decision is hers...There is a limit to which you can bend to...There are certain eventualities, which if it cannot be avoided have to be faced," Singh had said replying to a volley of questions.
At the same time in an interview to Karan Thapar on Devil's Advocate on TV channel, Digvijaya Singh had maintained that the Congress on its own was not asking Banerjee to leave UPA and was "not throwing her out".
Singh had also said it was "very embarrassing" for party president Sonia Gandhi and Prime Minister Manmohan Singh that Banerjee not only rejected the names of both UPA nominees for President's post but joined hands with Samajwadi Party and announced three more names, including that of the Prime Minister when they "did not have consent of any of the three".