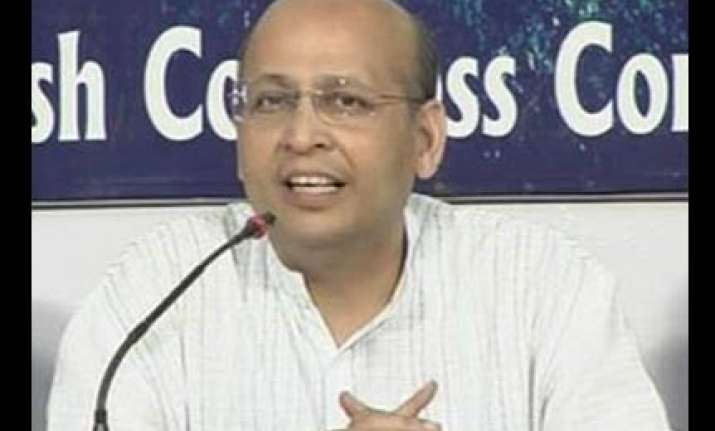 Condemning the repeated disruptions in Rajya Sabha by members opposing the Women's Reservation Bill, Congress on Monday  vowed not to give up as time had come for it to be made into a law. 
"The Women's Reservation Bill is a subject where the only question is when and not if. It is an idea whose time has come," party spokesman Abhishek Singhvi told reporters here.  Condemning the incidents in Rajya Sabha where a copy of the Bill was torn and some members tried to reach the Chairman's chair, Singhvi said it was deplorable as a bare handful of persons brought shame to democracy. 
"The thinking of a handful of people has been exposed.... This mentality brings shame on Indian democracy.... Even the Chair is not sacrosanct for them," he said.  Exuding confidence about the passage of the Bill providing for 33 per cent reservation in Lok Sabha and state assemblies, the spokesman said, "we will overcome. 
We will not give up.  "If these people and parties believe that with such acts, the Bill would not be passed, they are living in a dream world," Singhvi added.  The Congress leader said, "it is only a question of time (when the Bill is passed) and time is short".
Asked whether the government will accommodate the demands of a section of the opposition on a reduced quota or sub-quota for the dalits, OBCs and Muslims within the 33 per cent, Singhvi said, "we have been engaging them in talks. The counter proposal has to come from them". 
Referring to the full House in both Rajya Sabha and Lok Sabha despite repeated adjournments, the Congress leader said it shows the determination and will of the members. 
"No one can doubt the determination and will. It is only a question of time (before the Bill is passed)," Singhvi added.  The spokesman also downplayed allegations made by a section of the BJP that the government did not have a roadmap for the passage of the Bill saying, "the roadmap is simple. The Bill has to be passed". 
He said it was rare that there was a broad unity amongst various parties on an issue.  On the decision of Samajwadi Party and Rashtriya Janata Dal to withdraw support to the government if the Bill is passed in its present form, Singhvi said that government was "not dependent on such support.
"Let me make it clear that giving or withdrawing support is irrelevant at this time. We are not dependent on such (SP-RJD) support," he said.  The Congress leader said even if the government was dependent on such support, it would have decided to pass the historic Bill in public interest. PTI