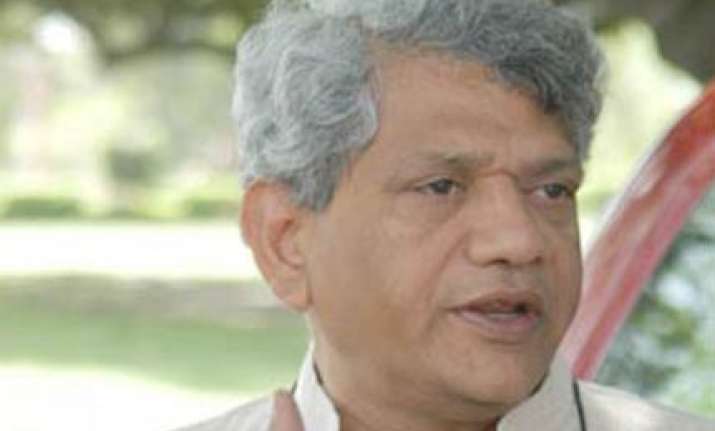 The CPI(M) on Friday  asked the government to club all cases relating to the demolition of Babri Masjid and transfer them to the Supreme Court for their speedy disposal. 
Observing that the UPA government was forced to hasten the tabling of the Liberhan Commission report following media revelations, the party said "not surprisingly", the Action Taken Report does not contain any measure of punitive action or legal prosecution.
The government was defending itself on this count saying there were many cases pending in various courts and the process of law should be allowed to take its course, CPI(M) leader Sitaram Yechury said in an editorial in the forthcoming issue of party organ 'People's Democracy'.
"Nothing however stops the government, through its legal officers, to intervene in the judicial process for ensuring the clubbing of all such pending cases and transferring them to the apex court for speedy disposal," he said, charging the government with "not showing any interest or inclination to adopt such a course".
In the editorial titled 'Punish The Guilty', Yechury asserted that destruction of the mosque was the "most serious assault on the secular democratic foundations" of the country.
"Hence, to allow its perpetrators to go unaccounted for is tantamount to not meeting and defeating this challenge to the process of consolidation of the modern Indian Republic," he said.
Maintaining that the Liberhan panel "strangely" seems to have condoned the role of the then Narasimha Rao government, Yechury said this runs "completely contrary to known facts of that period."
He said the "entire secular political line up in the country" had then backed the Centre and called for firm action to defend secularism.
"In fact, the National Integration Council, meeting a few days before the demolition, boycotted by the BJP and AIADMK, its ally then, had unanimously accepted the resolution moved by late Comrade Harkishan Singh Surjeet asking the Rao government to take all measures necessary to protect the Babri Masjid. Yet, despite all this support, the government did not act effectively".
In 1993, the CPI(M) had moved a motion of no-confidence against the Rao government on this score. The government had then survived the vote due to "what has now become infamous as the Jharkhand Bribery Case."
 Asserting that even after 17 long years, justice needs to be done, Yechury said the demolition was preceded and followed by "frenzied rousing of communal passions" and the trail of blood and mayhem which claimed thousands of lives and seriously disrupted communal harmony.
"In this context, justice means not merely bringing to book the culprits ... but justice needs to be delivered in order to effectively repair and cement the divisions that this sought to create in our society and country," he said. PTI