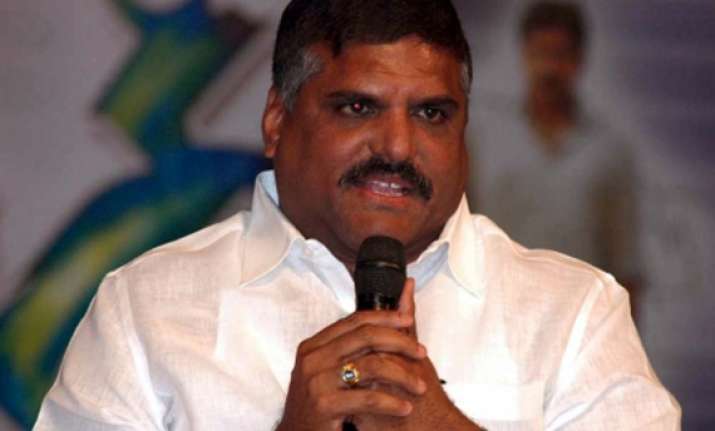 Hyderabad, Dec 16: Chaos prevailed at the day-long state conclave of the ruling Congress party here Sunday with a section of leaders from Telangana insisting the meet pay respects to those who died for a separate Telangana state.
During the conference at L.B. Stadium here, parliament members, leaders and workers from Telangana raised slogans in support of a separate statehood to the region.
The conference was disrupted for a while in the afternoon after a verbal duel between state Congress chief Botsa Satyanarayana and MP Ponnam Prabhakar. Other MPs from Telangana supported Prabhakar and raised slogans of "Jai Telangana".
There were also counter slogans from leaders of Andhra and Raylaseema regions, opposing the state's bifurcation.
To prevent the situation from taking an ugly turn, Congress general secretary in charge of party affairs in the state Ghulam Nabi Azad intervened to ensure that the participants observe two-minute silence as a mark of respect to Telangana martyrs.
Satyanarayana had earlier rejected Prabhakar's demand and said that people died in the agitations (against state's bifurcation) in other regions too. He said that the meeting was being held to pay respects to those killed in recent cyclones.
In an emotional speech, Prabhakar said not observing silence was an insult to Telangana "martyrs". He also wondered why the government was providing security to YSR Congress party leader Sharmila's walkathon in Telangana. Satyanarayana, in his inaugural address, hoped that the Congress leadership would find an amicable solution to the Telangana issue.
The meeting was attended by leaders from the grassroot level to central ministers. It is seen as an attempt by the Congress to come out with an action plan to win back people's confidence ahead of the 2014 general elections.
However, Union ministers S. Jaipal Reddy and Kishore Chandra Deo, who have differences with Chief Minister Kiran Kumar Reddy, stayed away from the meeting. MPs Kavuri Sambasiva Rao, Rayapati Sambasiva Rao, Harsha Kumar, central leader Renuka Chowdhary and a section of state legislators also did not attend the meeting.