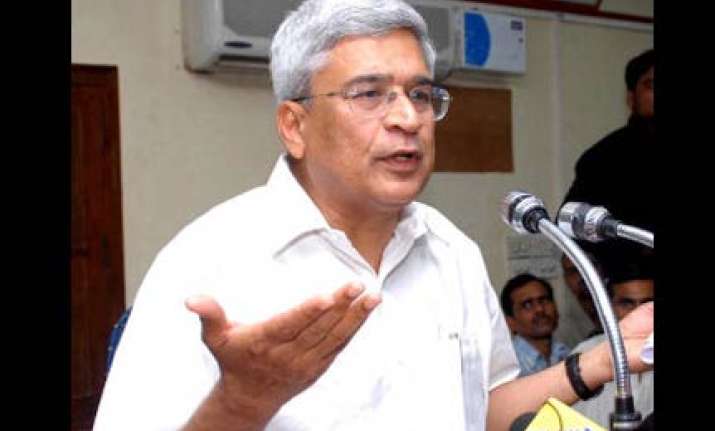 Vijayawada: The Communist Party of India (Marxist) on Sunday demanded the Centre should spell out its views on "joint collaboration" between the Trinamool Congress and the outlawed Maoists in West Bengal.  "We would like to know whether the Centre finds the Trinamool Congress-Maoists collaboration compatible with its fight against the outlaws.
 "Union Home Minister P Chidambaram says there is no proof of collaboration between the TC and Maoists but the proposed rally in Lalgarh tomorrow exposes their tie up," CPM general secretary Prakash Karat said here today.
Briefing newsmen about the ongoing discussions at the Extended Central Committee meeting of the CPM here, Karat said Union Railway Minister Mamata Banerjee and also some Union Ministers of State were scheduled to take part in the Lalgarh rally which has the "support and full backing" of the Maoists.
Though the Trinamool Congress claimed it was a non-political rally, its joint collaboration with the Maoists has been clearly exposed. he charged.
"We would like to know from the Centre how it views this joint collaboration as one Union Cabinet Minister and some Ministers of State are going to take part in the Lalgarh rally. Now, the question is what is the Government of India's stand on this," Karat questioned.
Referring to West Bengal, the CPM general secretary said their target was the Trinamool Congress. "Trinamool is the main target for us. Congress is only a junior partner in the alliance and not the main force that is attacking us," Karat said. PTI