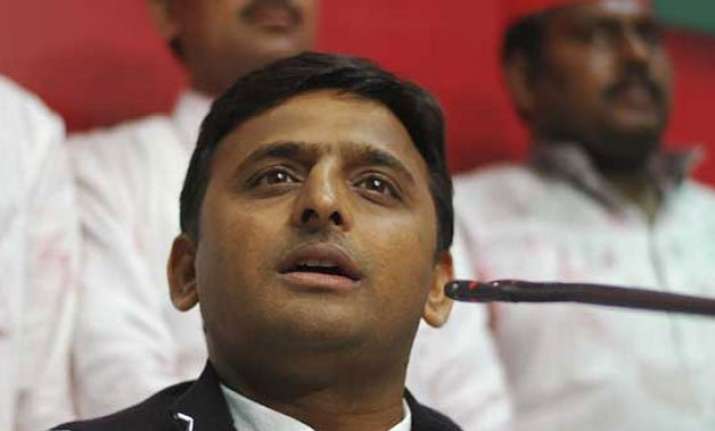 Lucknow: Uttar Pradesh Chief Minister Akhilesh Yadav today accused the BJP-led Centre of meting out step motherly treatment to his government and pursuing divisive policies as he rejected the charge of Muslim appeasement against his own dispensation, saying he was trying to create a balance in society.
"The situation could be gauged from the fact that of Rs 7,000 crores demanded for relief of farmers, who suffered losses from hailstorm and untimely rains, the Centre has agreed to Rs 2,800 crores and that too have not been released," he said when asked about relations of the state government with Centre.
"We have already disbursed Rs 3,500 crores to farmers from our own resources and will be getting much lesser amount.  It's easy to play politics, but difficult to really work for the masses," Yadav told PTI in an interview.  Blaming BJP for following Britishers' "divide and rule" policy to grab power, Yadav asked the people to remain alert from such "divisive forces".
"They (BJP) are dividing the society. They raised issues like Love Jihad and Pink Revolution during elections and forgot them later. They are following Britishers divide and rule policy to grab power. It's need of the hour the people remain alert from such divisive forces," Yadav said.  
"The revolt of 1857 also called first war of independence took place on emotional note and later Britishers used the same emotions to create divide and ruled the country... the same is being done now by BJP. But the situation has changed and people are alert to thwart such designs," the CM said.  About opposition's allegation that the SP government was engaged in Muslim appeasement, Yadav said his government was working to create "balance in the society".  
"If we provide subsidy and other facilities for Haj, we have also initiated Samajwadi Shravan Yatra for elderly people in which they were not charged any money," the CM said rubbishing allegations.
On his relations with Governor Ram Naik, Akhilesh said, "I enjoy good relations with him."
"He has recently advised me not to name new CM's office as annexe and I agreed to him. He also appreciate government's decision to rename Technical University as APJ Abdul Kalam Technical University," he said.  On the party's agenda for 2017 assembly polls, CM said he was relying on "development" works initiated by him in the past three years.
"At present my priority is to get all the works initiated by me to be finished timely. The work of Metro, Agra-Lucknow expressway that is to be extended upto Ballia is future is going on. On completion, they would be proving of great help to common man as well as traders also," he said.  "We are also starting dial 100 and in process of purchasing 4000 vehicles for police. The objective is to ensure that police reach at the site of accident timely. For this these vehicles will be deployed at strategic locations so as to take minimum time," he said.
"If police reaches timely half of the problem will be solved automatically", he added.
About his experience till now as Chief Minister, Akhilesh said, "I have learnt how to take work... In the days to come, you will see more speed in developmental works." He said that opposition parties are fighting for issues of "using mike and playing of DJs" as they have nothing concrete to tell the people.
"They did nothing for the people and are raising petty issues. I challenge them to talk about development. My government has initiated the development agenda and if it is continued in future then UP will be on the top of other states," Akhilesh said.