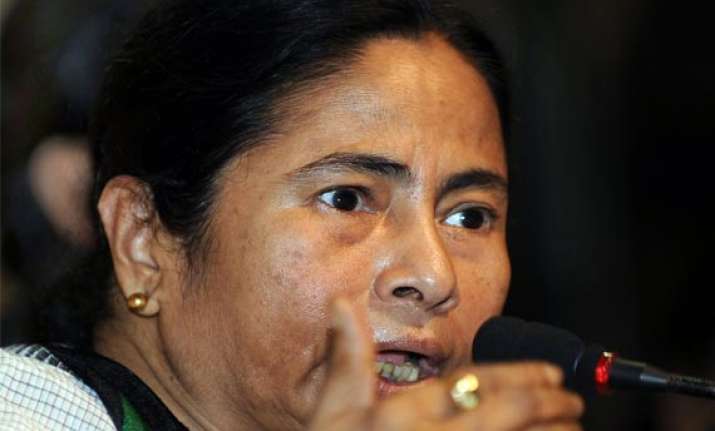 Panchla, West Bengal, May 29: In a renewed attack on the UPA government at the Centre, West Bengal Chief Minister Mamata Banerjee on Tuesday  said New Delhi was disturbing the state government on the question of internal security and once again dared it to dismiss her government.
"Everyday the Centre is disturbing a democratically elected government. It is disturbing the state government on the question of the internal security. If it has the courage let it dismiss the government in the state and we will see to it. We do not fear for that and we will fight it out democratically," Banerjee said at an election rally.
This was her second campaign in as many days in West Bengal's Howrah district where Lok Sabha bypoll is scheduled on June 2.
Referring to her party Trinamool Congress pulling out from the UPA II government last year, she said "We have done this to protect the interests of the people when they (UPA government) went ahead with FDI in retail sector, effected a sharp rise in the the prices of diesel and imposed a cap on the LPG cylinders.
"People are most important to me, not the ministerial positions which are used at times for indulging in corruption. When we found they (UPA government) would not listen to us and had decided for FDI in retail we left the government in the interest of the people, who would suffer the most.
"I am a commoner and I am proud of that. I do not even use the chair which was so long meant for the chief minister. I do not spend a single paise from the state exchequer for having even a cup of tea... I spend from my own. I do not own a house or car and I do not receive salary meant for the chief minister," she said.
Accusing the Centre of non-cooperation in giving financial aid to the cash-strapped state, Banerjee said "the Centre has not given us a single paise despite repeated requests".
"We were with them (in the UPA) for one and half years and we had taken up repeatedly the continued economic deprivation of the state by the Centre and on issues which concerned the people of the country. But they did not pay any heed to our pleas," she said.
Defending her party's decision to go in alone in the bypoll instead of tying up with Congress, Banerjee said, "it is wrong to say that the results are bad while fighting it alone. This theory is not correct".
She said after Pranab Mukherjee resigned from Jangipur seat to contest for the post of President, TMC did not put up a candidate against his son Abhijit who fought the poll and won. "But here we find Congress has fielded a candidate. We do not care for that. The Congress, CPI(M)) and the BJP have combined together against us. We believe in people's Mahajot (coalition)."
Referring to BJP, she said though officially it was not contesting the Howrah parliamentary bypoll it was supporting two independent candidates to cut into her party's votes.
"But this will not work... There are some independent candidates who are like the seasonal cuckoo," she said, adding, in the last Kolkata Municipal Corporation election TMC did not form an alliance with the Congress but won 100 out of 141 seats.
Banerjee alleged that CPI(M) had amassed wealth worth thousands of crores of rupees, including properties located on the stretches from Park Circus to Moulali in Kolkata during its 34 years of rule.
The chief minister claimed that chitfund scam would not have come to light if TMC did not come to power.
"We are being accused of having a connection with the chitfund business. This is a canard. Let them say who in our party is involved in it," she added.