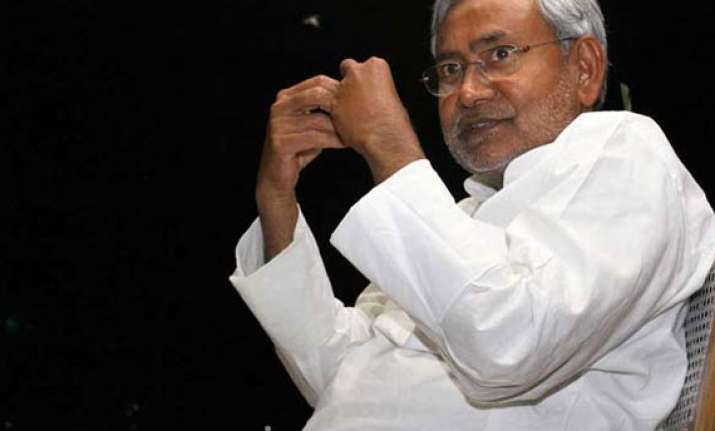 New Delhi, Apr 14: JD (U) seems to be in two minds over breaking alliance with BJP since the time the saffron outfit decided, in principle, to project Gujarat Chief Minister Narendra Modi as its Prime ministerial candidate in 2014 General Elections.  
The national convention of JD (U), starting from Sunday, is expected to take up the issue of continuing alliance with BJP in view of Modi's emergence as BJP's most proffered candidate for PM. Can the JD(U) take the risk of moving out of the alliance?
Given the arithmetic of the present Bihar assembly, there is no danger to the government led by Nitish Kumar even in case JD(U) decides to part ways with BJP. In a house of 243 members, JD(U) alone has 115 members while the BJP has 91 members.
Nitish can easily manage majority with the support of 6 independents, JMM (1 member), CPI (1 member) and Congress party (4 members).
Therefore it's definitely not the survival of the present government that is stopping JD(U) from calling off the alliance. It's the shape of Bihar politics that will emerge after JD(U)-BJP break up that is worrying Nitish Kumar.
With Lalu Prasad and Ramvilas having joined hands and waiting in the wings to strike, Nitish Kumar knows that even a small split in anti-Lalu votes will prove disastrous for his party's political future.
Nitish Kumar is yet to forget the fact that in 1995 assembly elections, he got a resounding thrashing and managed just 7 seats. It was this debacle that forced Nitish Kumar to join hands with BJP. Even today, despite all the claims of development, politics in Bihar is guided by caste arithmetic.
Nitish Kumar's influence is limited mainly to two districts – Patna and Nalanda – where his caste has sizeable presence.