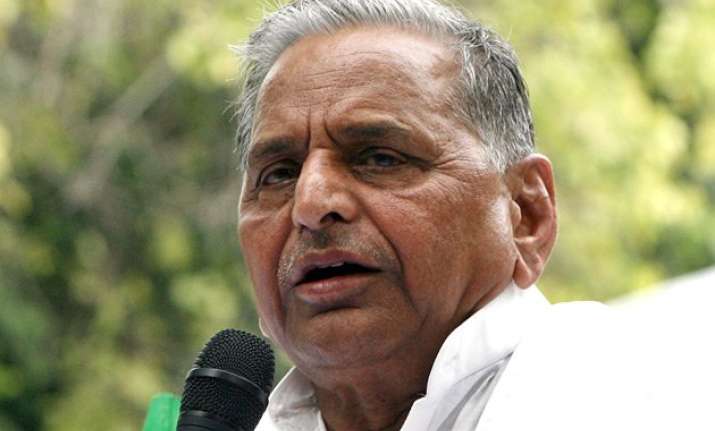 New Delhi, Feb 27: Samajwadi Party leader Mulayam Singh Yadav today surprised everyone in Lok Sabha by saying that his party would change its view towards BJP, if it changes its "policy and mindset" towards Muslims and Kashmir.
In his speech on the Motion of Thanks to the President's Address, Yadav also attacked the government alleging that it has failed on issues like economy, internal security as well as foreign policy.
He said his party has "no differences" with the BJP on the issues of patriotism, language and border security, but stopped short of reaching out to the main opposition party.
"If you change your views about Muslims and Kashmir, we will change our views towards you," he said.
In an unusual move, Yadav also praised BJP President Rajnath Singh for speaking about "socialism" in his speech on the Motion of Thanks to the President's Address.
Yadav said Ram Temple issue is a closed chapter and BJP cannot raise that issue again.
"The temple issue is over. You can not raise that issue again," he said looking at the BJP members.
"We have differences with the BJP on the issue of Masjid," the SP leader said.
Yadav said, "Muslims are best makers of ornaments and you (BJP) and those who are sitting on the other side (treasury benches) are the one who wear the ornaments."
He also used opportunity to take a dig at the BJP for its alleged anti-Muslim politics, saying the party cadre's attitude towards minorities could be changed through morning RSS trainings in its sakhas.
Yadav attacked the government for its "wrong policies" which were major reasons for price rise, corruption, problems of farmers, situation on borders, condition of Muslims and troubles in internal security.
Referring to recent blasts in Hyderabad, Yadav said "the citizens country is under panic" and citizens are fearful to move around in the country because of the terror activities and "Government has not come up with any effective way" to deal with it.
He asked the Government to implement the recommendations of Sachar Committee and Ranganath Misra Commission to improve the condition of Muslims in the country.
"Reservation is required for uplift of Muslims who are the most neglected section in the country. Their con