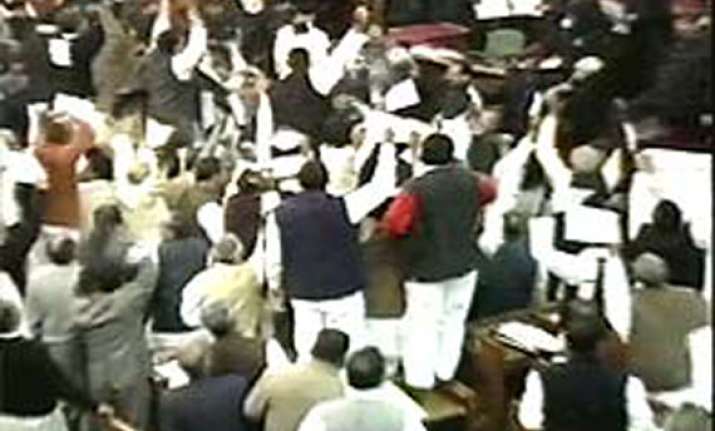 Lucknow, Feb 14 : The budget session of Uttar Pradesh Assembly today got off to a tempestuous start with opposition BSP creating pandemonium during the Governor's Address to the joint sitting of both Houses, forcing him to cut short his speech.
As soon as Governor B L Joshi rose to address the members, BSP legislators carrying placards and banners stood on their seats and started raising slogans and throwing paper balls towards the Chair.
Amid ruckus, Joshi had to cut short his speech minutes after he began to read the Address. BSP members raised slogans alleging dismal law and order situation in the state and demanded that the government be dismissed. RLD members displayed banners highlighting issues pertaining to farmers.
BJP members were not present in the House as they had decided to boycott the Governor's Address, saying it was drafted by the SP government.
BSP members walked out terming the Address as a "government document". The Governor, who began his Address amid din, read hardly a few lines and as the noise grew louder, he said if members were not ready to listen, he would read the last part of the speech and urge the Chair to treat his entire Address as read.
Later, the Speaker read out the opening and closing paragraphs of the Governor's Address and adjourned the House till Monday after introduction of a few bills.
As Speaker Mata Prasad Pandey started reading out the Governor's address, some opposition members objected to it. Leader of BJP Legislature Party Hukkum Singh citing rules said that in the 92-page Address of the Governor, it was not mentioned even once as to why the session was convened.
He said the Address was in violation of the Constitution and could not be part of the proceedings. Singh's contention was, however, rejected by the Speaker, who said that it was clear that it was a Budget session.
Leader of Opposition Swami Prasad Maurya alleged that the Governor did not read even a single page of the address. Parliamentary Affairs Minister
Azam Khan
took a dig at BSP saying that its members had objection as loot, dacoity and crime during their regime was not included in the Address.
Khan was even heard saying, "It was no more a government of goondas in the state". Later Maurya told reporters that the BSP protested the Address as it was a "government document". He said that the party had wanted the Governor to go back and dismissal of the Akhilesh Yadav government.
He also alleged that to cover up its failures in the Allahabad stampede, the government was giving clean chit to its officials.
On one hand the government has ordered an inquiry by the Chairman of Revenue Board into the incident, while on the other it was giving clean chit, Maurya said alleging that the inquiry was nothing but a farce.