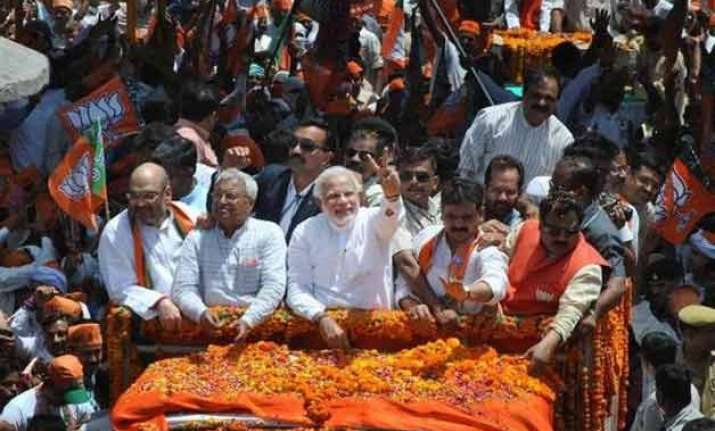 New Delhi: The Bharatiya Janata Party (BJP) workers in Varanasi are finding it very difficult to face the voters in the city who are now complaining that little has changed on the ground after nine months of the Lok Sabha polls.
A group of party workers that calls itself 'NaMo Army' said that, especially after the BJP's debacle in Delhi Assembly polls, people are posing 'tough' questions to them that what has been done by the government so far for the city.
Some members of the 'NaMo Army' are also believed to be disappointed because the party failed to recognize their efforts in ensuring victory.
Dharmendra Gupta, district chief of 'NaMo Army', directed his ire at the Central government saying people are taunting them for government's failure. "People think that BJP's bigwigs are 'easily' accessible by us… they feel I can get things done but the fact remains that I can't even get their train reservations confirmed," he was quoted as saying in a report published in Economic Times.
The slogan 'Har Har Modi, Ghar Ghar Modi' was also coined by the 'NaMo Army'.
The group also said that 'real people' running the show in city, ahead of poll, were outsiders who have now suddenly turned a blind eye.
Party workers are finding it hard to pacify the people who had voted for the BJP in the hope of 'achche din', he said.
People also accused Modi government of ignoring them. They expressed anger saying the government had announced to provide Rs 100 crore for the modernization of Madarsas in the budget but nothing was given to the Gurukul.
It should be noted top BJP leaders and party workers had campaigned massively in Varanasi ahead of the general election to mobilize votes in favour of Narendra Modi. The party had also release a separate manifesto for the constituency promising to develop Varanasi that would guide the whole world with its academic, historic, spiritual and cultural centres.
It was only Modi's charisma that the saffron party managed to bag 71 of 80's Lok Sabha seats in the politically important state, Uttar Pradesh.
The Prime Minister has so far managed to visit his constituency twice.