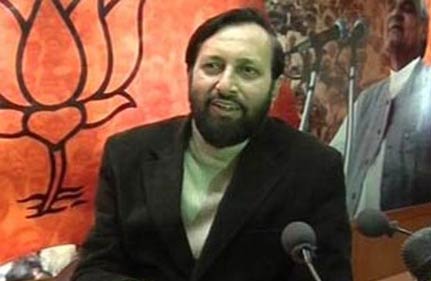 New Delhi, Nov 19: Launching a direct attack on Prime Minister Manmohan Singh, BJP today accused him of being "guilty of omission if not commission" on scams that have rocked the winter session of Parliament.
"PM is guilty of omission if not commission...even that image of cleanliness should not include whitewashing of all the scams (2G, CWG and Adrarsh) he has presided over," BJP spokesperson Prakash Javadekar told reporters.
Asked whether Singh should resign, he, however, parried the question by saying, "I think the PM is responsible and owes an explanation. We want a JPC which will go into the details of all three scams."
On alleged arm-twisting by DMK on 2G spectrum, he said, "PM allowed himself to be arm-twisted. So it is responsibility of the PM. The allies can suggest anything. But it is duty of the leadership to see the game and to ensure that transparent processes are in place. So it is the duty of the PM.
"So it is the failure of the PM. I will not say it is the arm-twisting by somebody. He allowed himself to be arm-twisted. It is his weakness and it is his failing."
He said the Supreme Court has asked for an affidavit from the Prime Minister which is "unprecedented" in the history of independent India. "He (PM) has lost face," Javadekar said.
When it was asked that as Parliament is not being allowed to function, where the Prime Minister would explain the matter, the BJP leader said "he should use the TV or AIR to explain his position. Government should accept the JPC demand in Parliament and then PM can explain there also."
"The present impasse in Parliament in unfortunate and is due to the adamant attitude of the Congress. Congress' policies are responsible for Parliament not functioning. We want Parliament to function from day one," he said.
"All the three scams need to be probed by a JPC as that is the only credible alternative available," he said adding, "65 per cent of MPs are demanding and it is a democratic demand to form a JPC to probe 2G, CWG and Adarash scam".
"The JPC will be headed by a Congress member as per parliamentary procedure but even then government is not ready. Because they are not ready to face the truth... strangely Congress is blaming opposition for disruption of Parliament."
Advising Congress to be sensible to the demand of the majority, he said when the majority is demanding a JPC it should have announced it on very first day without any delay.
On the suggestion for widening the JPC probe till 1998, he said "nobody has come to us with this proposal of expanding it upto 1998. But first government should accept JPC."
BJP's deputy leader in Rajya Sabha S S Ahluwalia said the government will eventually have to accept the JPC demand. PTI