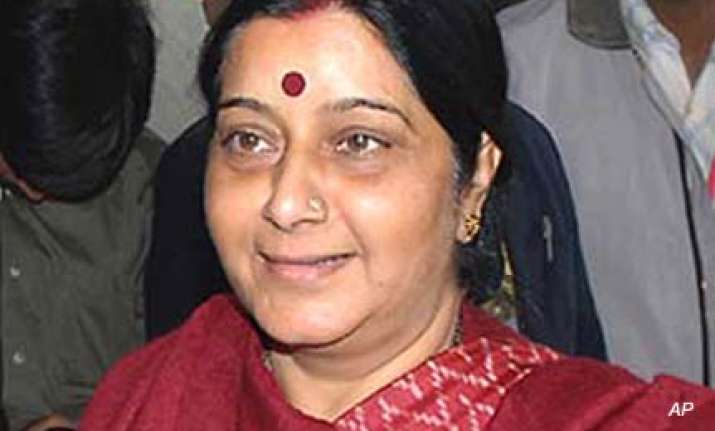 Vadodara, Oct 4 : The BJP would raise the issue of "misuse" of CBI in the winter session of Parliament, senior party leader Sushma Swaraj said on Tuesday . "BJP will raise the issue of misuse of CBI in Parliament and demand a discussion on it," the Leader of the Opposition in Lok Sabha said.   
Addressing a public meeting in Sama locality here tonight, Swaraj said, "CBI has different yard sticks for different people. The agency has divided people in three categories. Under category one, it saves people like Jagdish Tytler and Ottavio Quattrocchi.
"Its second category includes Opposition politicians such as L K Advani, Narendra Modi, Murli Manohar Joshi and Amit Shah. The third category has people like Mayawati, Lalu Prasad Yadav and Mulayam Singh Yadav, who have cases pending against them."  The rally was organised in support of BJP candidates contesting the October 10 civic elections in Gujarat.  
She congratulated Chief Minister Narendra Modi for his development initiatives in the state without bothering about "obstacles" created by the Congress-led UPA Government.  "People of Gujarat will not tolerate any vindictive action by the Centre against Modi."  Swaraj alleged that CBI has falsely implicated former Gujarat Minister of State for Home Amit Shah in the Sohrabuddin Sheikh fake encounter case. PTI