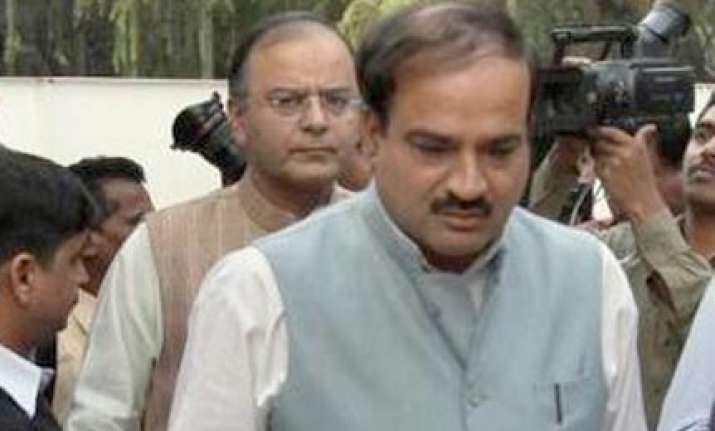 New Delhi : With CBI probe in the Sohrabuddin Sheikh fake encounter case appearing to inch towards Gujarat Chief Minister Narendra Modi, BJP on Friday announced it would hold week-long demonstrations from August 9 at state headquarters of the investigating agency against its "misuse".
"BJP's campaign against CBI (Congress Bureau of Investigation) will start on August 9 i.e. August Kranti Din, from the historical August Kranti Maidan in Mumbai," BJP general secretary Ananth Kumar said.
Party vice-president Purushottam Rupala and secretary Kirit Somaiya will lead the march to CBI headquarters in Mumbai from the August Kranti Maidan.
 BJP will organise 'nyaya' (justice) march at district offices of CBI across the country from August 9 to 14, which will be observed as justice week. BJP workers will also submit a memorandum to the district collector after the protest demonstration in each district.
"Interference and misuse of CBI by the UPA government is not confined to Gujarat alone but is seen in other states as well," Kumar said.
The CBI had zeroed-in on Modi's close associate and former state Home Minister Amit Shah in July, forcing him to quit his post and surrender for his alleged role in the encounter that took place in 2005.
BJP Central leadership has stood firm behind Modi after the latter-as well as the Sangh Parivar- sought the party's support in this case.
Senior leaders L K Advani and Arun Jaitley, who are both MPs from Gujarat in the Lok Sabha and Rajya Sabha respectively, have voiced their support for Modi and expressed concern over "misuse" of CBI in the Sohrabuddin case.
Jaitley will address a public meeting at Ahmedabad, while M Venkaiah Naidu will lead a sit-in at Delhi. Leader of Opposition in the Lok Sabha Sushma Swaraj and other top BJP leaders will also take part in the agitations.
"Demonstrations, sit-ins, rallies, protest marches will be organised throughout the country during this justice week," Kumar said. PTI