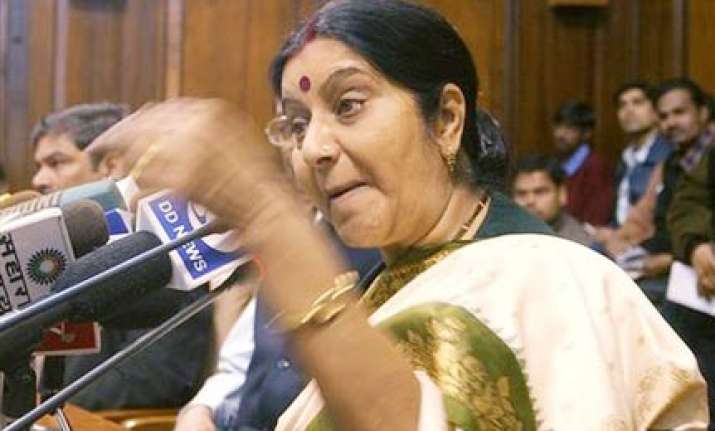 BJP on Wednesday sought to take credit for its role in passage of the Women's Reservation Bill in Rajya Sabha and forcing the government to defer the nuclear liability bill.
'When the Women's Reservation Bill came many said opposition unity will be broken but we were not affected by criticism that BJP was aligning with the Left," Leader of the Opposition in Lok Sabha Sushma Swaraj told a press conference.
When she was reminded that Congress has already taken credit for passage of the women's bill in Rajya Sabha, she said, "Democracy runs on numbers. In the House where it was passed, government did not have a majority."
Leader of Opposition in the Upper House Arun Jaitley, who was also present, referred to the din and use of marshals when the contentious bill came up for discussion and passage.
"My de facto intervention became the de jure debate," he claimed, adding that he had objected to the use of marshals even in his speech. "You cannot have voting or debate in the presence of marshals," he said.
'From the beginning till the end we were opposed to use of marshals. Even during the debate, while supporting the bill, we opposed the use of marshals. The government could have handled it better," Jaitley added.
Swaraj asserted that BJP had effectively cornered the government on price rise in Parliament.
"The government wanted that we discuss price rise as part of the Motion of Thanks to President's Address or the debate on the general budget but we wanted a focussed discussion on the issue," she said, adding that Lok Sabha was adjourned on two days due to opposition's protest.
Swaraj insisted that BJP acted responsibly by not forcing an adjournment in Lok Sabha on price rise when the Railway Budget was being presented.
She made a special mention of the unprecedented walkout by the opposition during the budget presentation in protest against inflationary policies announced by the government.
"BJP will bring cut-motion against the budget," she said.
The two BJP leaders attributed good floor-coordination as the reason for the the opposition's good performance and said the floor management of the government was poor.
BJP also took credit for deferring of the Civil Liability for Nuclear Damage Bill, saying government was forced to retreat in the face of opposition unity.
"We are opposing the bill as it is not in nation's interest," Swaraj said. PTI