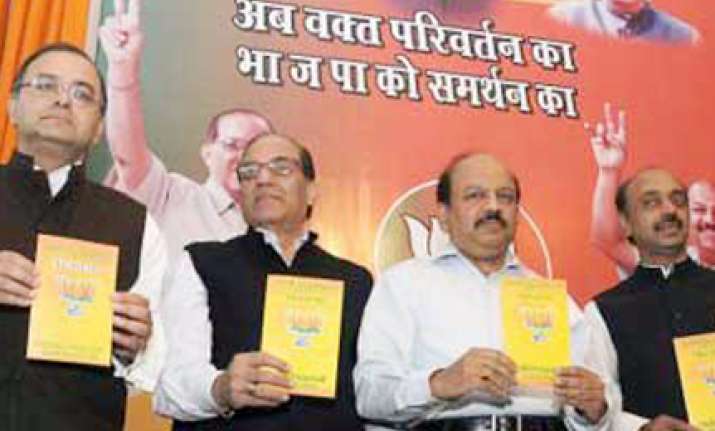 If BJP comes to power in Haryana assembly polls next month, it will make a law to ban western music and "vulgarity", says the party manifesto. 
 "...Sanskriti key naam par Paschatyein sangeet va bondapan ko kanoon banakar roka jayega" (law will be made to stop western music and vulgarity in the name of culture), says the manifesto in Hindi which was released by senior leaders including Arun Jaitley, Vijay Goel and state BJP President Krishan Pal Gujjar at a press conference in Chandigarh on Tuesday.
Asked to comment if western music will be banned by BJP if it comes to power in the State, Jaitley pointed to Gujjar for reply.  And Gujjar said "we are not against western music but we are against vulgarity and sleazy things". 
The manifesto of the party, which is fighting on all the 90 assembly seats for the October 13 polls, also mentions that BJP will strive to revive the "ancient and rich Haryanvi culture".
The BJP has promised to make Haryana crime-free, achieve a growth rate of 12 per cent, provide transparent and an honest regime, construct 'pucca' houses to those living in slums, free insurance to those living below the poverty line, reviving Haryanvi culture and Rs 15,000 per acre compensation to farmers whose crop is damaged by any natural calamity.
The party  has also promised to bring the Sutlej Yamuna Link canal waters into Haryana from Punjab.
The party has promised to  provide every farmer a soil health card, under which soil testing will be done every six months and a record for that will be maintained.
The party hs also promised assured power supply of 15 hours daily for farmers. It has also promised that an amount of Rs 1 crore per acre will be given to those whose land is acquired in the NCR region.
Establishing a veterinary university, power to every village, ensure quality and affordable education to every citizen, educational loans up to Rs 20 lakh to students wishing to study abroad, delivery of pension to old persons at their homes and landless backward classes will be given a loan of Rs 2 lakh at 4 per cent rate without having to give any kind of guarantee so that they could start their own small enterprise while jobs of Safai Karamcharis working on contract will be regularised.
The party has promised to bring BPL (below poverty level) families within the ambit of reservation. The word BPL will not be written on the houses of those living below the poverty line "as it is an insult to the poor". The party will strive to rid the state of poverty in five years time, it added.
For women, separate Industrial Training Institutes will be opened, widow pension will be given at Rs 1,000 and a widow will be given an assistance of Rs 40,000 to construct a house.
For senior citizens, the BJP promised to construct 'Bhavans' at various places, which will act as centres where they can entertain and relax, the manifesto said.
 For the ruralites, the BJP promised to provide water connection in every household while more powers will be given to the Gram Panchayats. Efforts will also be made to promote rain water harvesting to arrest the decline in the water table levels.
The party has also enlisted various steps in its manifesto which it will take for ensuring urban development, in the field of education, health, law and order, for employees, in the field of sports, for journalists and ex-servicemen.
The manifesto on its cover carries the photos of Atal Behari Vajpayee, L K Advani, Rajnath Singh and Krishan Pal Gujjar.
The party has given the  slogan "Sabko Parkha Baar Baar, Aab Ki Bar Bhajpa Sarkar".   PTI