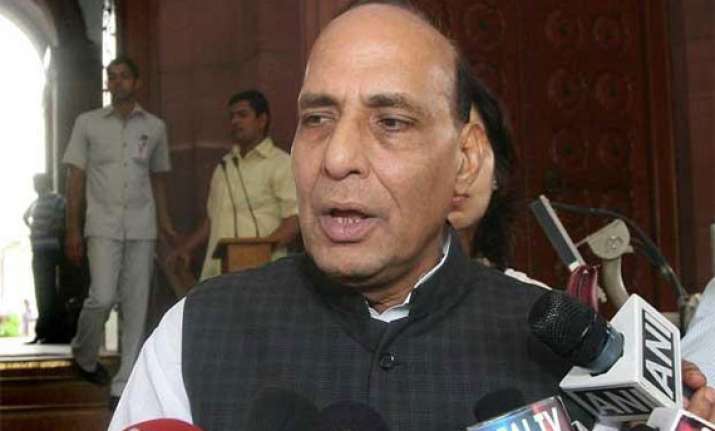 Bhopal/New Delhi, Feb 5: BJP president Rajnath Singh described Narendra Modi as a "very capable and popular leader" even as the VHP demanded that the Gujarat Chief Minister's name be announced as the party's prime ministerial candidate.
Rajnath, however, conceded that at this stage, it was hard to zero in on a candidate acceptable to entire NDA and maintained that the decision in this regard would be taken by the party's Central Parliamentary Board (CPB).
Answering a volley of questions at a news conference in Bhopal as to why the BJP was shying away from naming Modi as its Prime Ministerial candidate, the BJP President said, "There is a tradition in the party to decide such issues in the CPB."
Pointing out that before the 2009 Lok Sabha elections, it was the CPB which had chosen L K Advani as BJP's Prime Ministerial candidate, Rajnath said, "Why do you want us to change this practice now?"
Rajnath while describing Modi as a "very capable and popular leader" at the same time said there was no dearth of such good leaders in the BJP.
At this stage, he said, it was "difficult to name any leader" acceptable both to the BJP and the entire NDA. NDA allies like JD-U have indicated that Modi's name is not acceptable to them.
After a meeting with top RSS and BJP leaders last week, VHP leader Ashok Singhal openly said Modi should be declared the PM candidate by the party.
"If people themselves are demanding that Modi should be made the PM candidate then BJP will also have to think about it. Such a thing is happening for the first time. After all, the BJP President himself has said that Modi at present is their most popular leader," Singhal said in New Delhi.
BJP Vice President Mukhtar Abbas Naqvi said the party will decide and announce at the "appropriate time" as to who will be its Prime Ministerial nominee.
When asked if there was any leader who could be acceptable to both his party and the allies like Atal Bihari Vajpayee, Rajnath said "no two people in the world could be alike".
Saying that he would like the BJP to come to power after 2014 General elections on its own, Rajnath added: "However, even if that happens, BJP will not forget the allies with whom it will fight the elections."
Later in Allahabad, Singhal said the organisation will not violate its "decorum and limitations" by adopting a resolution for declaring Modi as the Prime Ministerial candidate.
"It is not for the VHP to decide who should be the Prime Minister. Of course, there are no two opinions about the popularity of Modi. But we are mainly concerned with issues like the Ram Janmabhoomi and our resolutions too will be to this effect," Singhal said.
"The VHP functions while observing certain maryada (decorum) and seema (limitations). It will certainly not violate these," he told reporters here.
"It seems media has already decided to make Modi a contender for the top post. We are more concerned about issues like building a grand temple at Ayodhya," the VHP leader said.
Significantly, another VHP stalwart Pravin Togadia, hailing from Gujarat and widely perceived as the second-in-command in the organisation, is known to share an uneasy relationship with Modi over the chief minister's alleged cold-shouldering of the powerful Patel community.