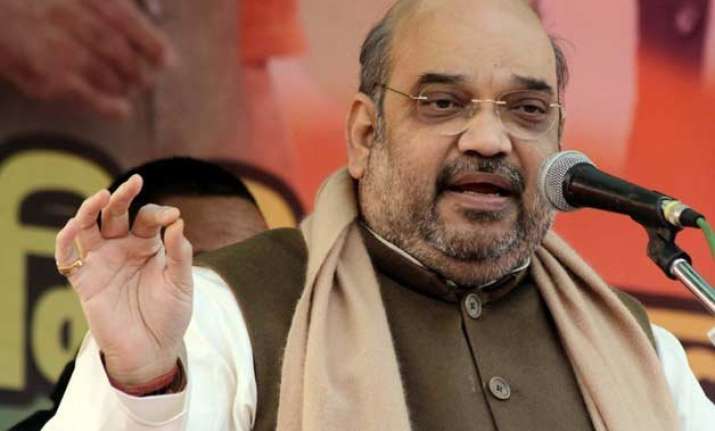 Surat: Rejecting reports that BJP has dumped its core ideological issues like Ram temple Article 370, on the pretext of lacking two-thirds majority in Parliament, its president Amit Shah today said the party was not on the back foot on the temple issue, and a decision would be taken at the right time.
"We are not at all on back foot on the Ram temple issue. Party will take a decision at the right time," Shah told reporters here.
"The case (of Ram temple) is pending before the Supreme Court. As and when the judgement of the Supreme Court comes, and, as the party has stated earlier, we will follow the judgement and everybody else also must respect it," he said.
"We also believe that another way of construction of Ram temple is to resolve the issue by talks with all the parties. We can also find a way by out of court settlement. Both the ways are open for us," he said.
Shah, however, denied that he had spoken anything on the Ram Temple yesterday (at his press meet in Delhi).
"Yesterday nobody uttered anything on Ram temple, neither the person who asked the question nor the person who answered that question," he said.
A statement of Union Home Minister Rajnath Singh on May 10 in Ayodhya that BJP cannot bring in a law for construction of Ram temple as it does not have majority in Rajya Sabha, had angered Hindu saints.
In reply to a question on what his party planned to do with core issues like Ram temple and repealing Article 370 as it has a majority now, Shah had yesterday said in Delhi that they require 370 MPs, two-thirds majority, to implement them.
Asked if BJP is helpless in repealing Article 370, Shah said it needs two-third majority in Parliament to quash it.
"There is no helplessness on Kashmir issue. Article 370 is not only an issue of Jammu and Kashmir government, but it needs two-third majority," Shah said.
When pointed out that BJP has enough majority in Parliament, he said, "It is not enough to amend the Constitution."