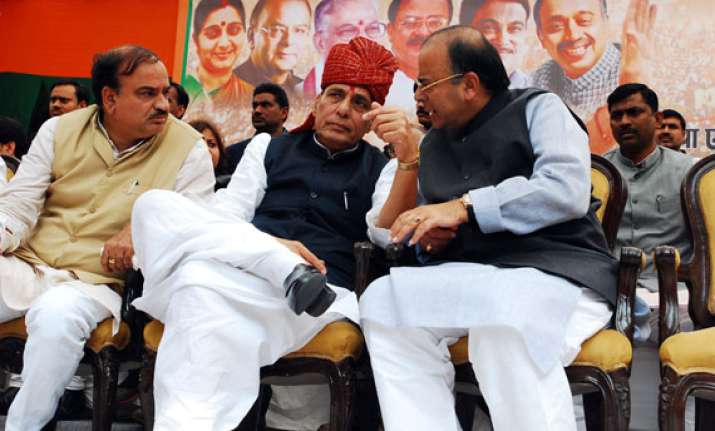 New Delhi, Feb 20: Several BJP leaders were detained here Wednesday when they tried to take out a march to protest Home Minister Sushilkumar Shinde's remarks linking the BJP and RSS with terrorism.
Bharatiya Janata Party (BJP) president Rajnath Singh and colleagues Arun Jaitley, M. Venkaiah Naidu and Ananth Kumar were detained along with a mass of supporters at Jantar Mantar in the heart of the capital.
"We cannot allow such a huge crowd to march. We are detaining you here," announced a Delhi Police official.
At a Congress meet in Jaipur last month, Shinde had said: "We have got an investigation report that be it the RSS or BJP, their training camps are promoting Hindu terrorism."
BJP had demanded that the home minister retract his remarks and apologise.
"Terrorism has no colour. It is neither Hindu nor Muslim. Why is the Congress trying to divide it on the basis of caste and religion," Rajnath Singh said at the protest.
Jaitley also slammed the home minister for "helping Pakistan" with his comments.
"We always said Pakistan promotes terrorism but Pakistan never accepted they have terror camps. They said maybe there are non-state actors. But the home minister accepted that a major political party runs terror training camps (in India). He gave a moral ground to Pakistan," Jaitley said.
The protest came a day before the budget session of parliament, which starts Thursday.
In a meeting of its top leaders, the BJP Tuesday decided to continue protests against Shinde in the session as well.