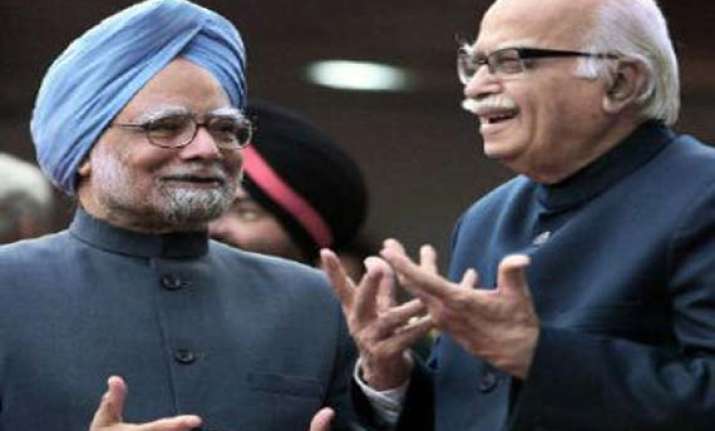 New Delhi, Nov 23:  Prime Minister Manmohan Singh met BJP leaders over dinner Thursday in an effort to iron out differences over contentious issues including FDI in retail but the logjam persisted with the opposition party insisting on discussion in the house over the issue under rules that entail voting, sources said.
The BJP said the government had not kept its promise of evolving consensus on FDI in multi-brand retail by consulting chief ministers and political parties.
The government has maintained that an executive decision cannot be a subject for debate under a rule that entails voting.
It has also denied having violated its assurance to bring about a consensus.
BJP leader L.K. Advani, Leader of Opposition in the Lok Sabha Sushma Swaraj and Leader of Opposition in the Rajya Sabha Arun Jaitley were among those present at the dinner.
Parliamentary Affairs Minister Kamal Nath and Finance Minister P. Chidambaram were also present during the government's dinner diplomacy with the main opposition party.
The prime minister, earlier in the day, said that parliament had a very heavy legislative agenda during the winter session and sought cooperation of MPs to face the challenges facing the country.
The dinner meeting with BJP leaders was rescheduled after it was cancelled Saturday last because of the death of Shiv Sena chief Bal Thackeray. Besides the BJP, the Left parties also want discussion on FDI in multi-brand retail under parliamentary rules that entail voting.
The opposition senses an opportunity to embarrass the government as some of its allies and supporting parties had earlier opposed the FDI in multi-brand retail.
The Samajwadi Party said it was opposed to the FDI decision but would convey its decision in the house if there was voting. The Bahujan Samaj Party said it would convey its stance once a decision was taken on the rules of discussion. The DMK also spoke of revealing its stand in parliament.
BJP spokesperson Shahnawaz Hussain Thursday said the UPA government should allow a debate on FDI in multi-brand retail under rules that entail voting. He said if the parliament did not function, it will be because of the "arrogance" of the government.
The BJP also said it would take a call on moving a no-confidence motion after it succeeded in pressing the government for discussion on FDI in multi-brand retail under rules that entail voting.