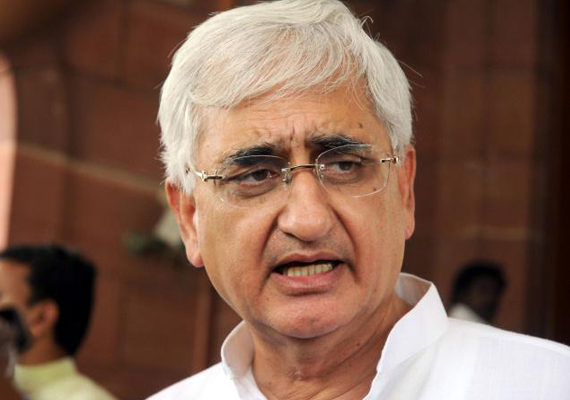 New Delhi, Aug 27: Hitting back at BJP for criticising the Prime Minister for making a statement in Parliament on CAG report on coal block allocation issue, the government today said the main opposition party is "confused" and seems "intellectually dishonest."
"If the CAG report cannot be discussed, the Prime Minister cannot make a statement, then what's going on for the last so many days... Sadly, the BJP is showing confusion of its mind and also beginning to look intellectually dishonest," Law Minister Salman Khurshid told reporters outside Parliament House.
Attacking Prime Minister Manmohan Singh for making a statement in Lok Sabha when the CAG report is with Parliament's Public Accounts Committee, BJP said it will continue to demand his resignation and boycott the "corrupt" government in Parliament.
Power Minister M Veerappa Moily said people will judge the actions of BJP "appropriately."
"People will not tolerate such things. House has to run.  Nobody can sabotage the functioning of Parliament. It is very unfortunate. They (opposition) will go down in history for obstructing Parliament," he said.
Khurshid said BJP was doing "an unreasonable thing and they are only speaking of an unreasonable thing". The main opposition party's demands will not be acceptable to "any reasonable and objective person," he said.  
Asked about the government's strategy, Khurshid said, "At present, we are only ensuring that the correct information is disseminated as widely as possible and obviously there is a constraint on us because Parliament is still in session."
On whether there is any possiblility that Lok Sabha will adjourn sine die, he said the government is making efforts that the House functions.
The opposition has equal responsibility along with the government for conduct of Parliament proceedings, he said.
"The government is doing its best....We cannot compromise either our principles or Parliamentary procedure," Khurshid said.