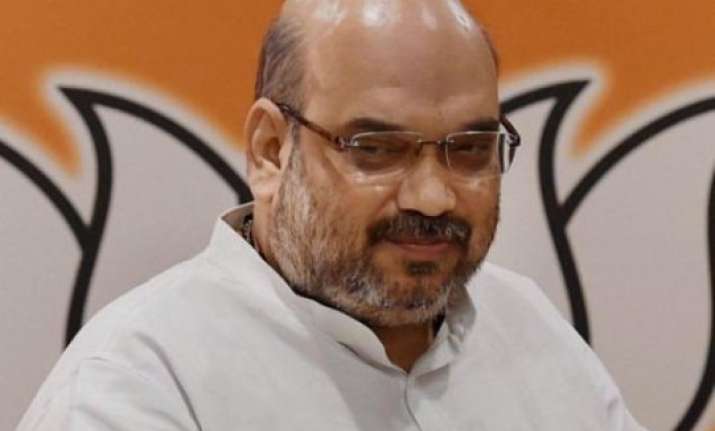 New Delhi: Riding on the Narendra Modi wave, BJP has crossed the century mark in the Assembly polls in Maharashtra, a feat last time achieved by Congress in 1990.
Making deep inroads into Congress and NCP bastions, BJP is set to get over 120 seats this time in the 288-member House, a development that could jolt the Shiv Sena, which was its 'elder brother' in the saffron alliance that collapsed before the polls.
In the 1990 Assembly polls, Congress had secured as many as 141 seats. Since then, no national or regional party had come anywhere near the 100 mark.
Though the party has failed to reach the halfway mark of 144, BJP's record is impressive this time as it is getting nearly three times the seats it secured in 2009 Assembly polls when its tally was 47.
The BJP tally this time is more than the combined figure of 92 seats it had won along with the Shiv Sena in the last polls. This indicated that the gamble played by the Prime Minister Modi and BJP chief Amit Shah has more than paid off.
The two parties had together secured as many as 138 seats in 1995 (BJP-65, Shiv Sena-73) when they had formed the first non-Congress coalition government in the state.
In 1990, the first assembly polls jointly contested by the BJP and Shiv Sena had seen the BJP secure just 42 seats out of 104 it contested and Shiv Sena won 52 out of the 183 alloted to it.
Former BJP leader late Pramod Mahajan was the architect of the BJP-Shiv Sena alliance—the oldest ideological partnership of the BJP.
With Mahajan striking a rapport with late Bal Thackeray— the Shiv Sena supremo had offered the Deputy Chief Ministership to the national party, which was till recently playing the second fiddle in the state.
In 1985, BJP contested 67 Assembly seats and had won only 16 when the Congress dominance was at its peak after the assassination of the former Prime Minister Indira Gandhi.  At that time, Congress had won 161 out of the 287 seats it contested, securing 43.55 per cent votes.  
With Sharad Pawar parting ways with Congress in 1999, the Congress vote got divided and since then, the party was sharing power with the NCP for last 15 years.  The Lok Sabha polls earlier this year changed the political complexion of Maharashtra with BJP and its allies capturing 42 out of 48 seats in the state, the second-largest after Uttar Pradesh having 80 seats.