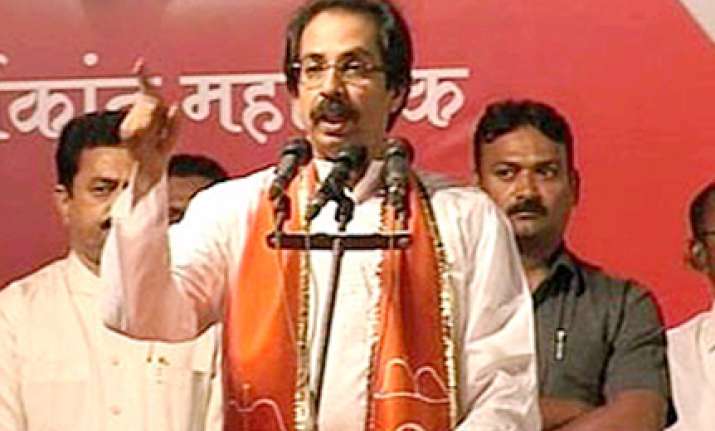 Shiv Sena on Wednesday said the ongoing crisis in BJP will have no bearing on the saffron alliance's prospects in the upcoming Assembly elections in Maharashtra.
Talking to reporters in Mumbai, party Executive President Uddhav Thackeray said the Sena-BJP alliance is making a serious bid to re-capture power in the state and will not face any problem due to the crisis which unfolded after the expulsion of Jaswant Singh over his views on M A Jinnah and dissenting voices from some other leaders.
He was talking to reporters after laying the foundation stone of multi-crore modernisation project of the civic-run zoo, Veermataa Jijabai Bhosale Udyan, in Byculla. hackeray was accompanied by senior BJP leader Gopinath Munde.
The Sena-BJP alliance, formed over two decades ago, rules the Brihanmumbai Municipal Corporation BMC, Asia's largest civic body.
Thackeray and Munde also inaugurated a garden at the Gateway of India. The Rs 4.95-crore garden is situated opposite Taj Mahal hotel, one of the sites of the last November's terror attacks.
Munde, a former Maharashtra Home Minister, accused the Congress-led Governments at the Centre and the state of failure to upgrade Mumbai's security in the aftermath of the 26/11 attacks.
Addressing a gathering, Thackeray pointed out that Gateway of India had witnessed two terror strikes - in August 2003 and in November last year.  Munde said maximum number of terror attacks in the country had taken place under the rule of Congress-led UPA Government.
"We all must be alert and work towards security of the nation and prevent Pakistan from carrying out terror attacks in our country," the BJP leader said.  "No one can forget 26/11 terror attacks. The attacks were not specifically on Taj Hotel or Mumbai CST but on the entire nation."
Referring to Prime Minister Manmohan Singh's statement that India still faces terror threat from Pakistan- based elements, Munde said, "the government has not been doing enough to take precautions."
Praising the work done by the saffron combine in the metropolis, Munde said, "both BJP and Shiv Sena have been making efforts since last 10 years for Mumbai's development and give the city an international look."
Thackeray said, "Like Singapore and other global cities, we will try to make Mumbai a world-class city."
The Brihanmumbai Municipal Corporation BMC's Rs 433- crore zoo modernisation plan will be carried out in four phases.
The first phase, costing Rs 44.5 crore, is expected to be completed in 18 months. It includes construction of a compound wall, an administrative building, roads, quarantine area for new animals and a veterinary hospital.
Phase two includes shifting of heritage structures within the zoo premises, constructing the entrance plaza and car park and other restoration works. Phase three includes sprucing up of animal enclosures, while more animals will be acquired in the fourth and final phase.