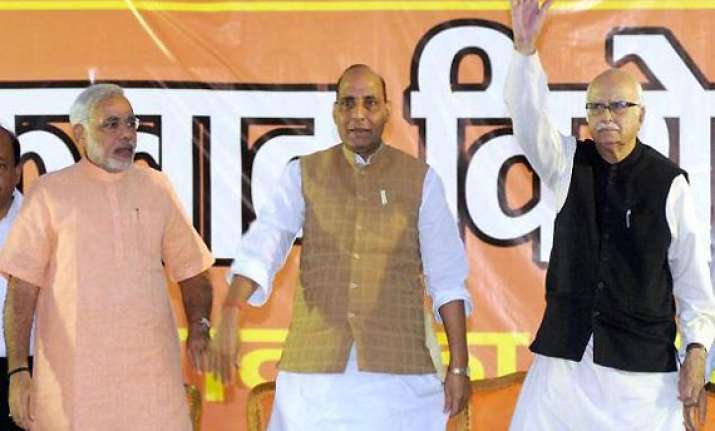 New Delhi: After three days of persuading senior leader L K Advani and other supporters of his camp, BJP president Rajnath Singh on Thursday night finally decided to convene the party's parliamentary board meeting today at 5 pm, where Narendra Modi is expected to be anointed as the party's prime ministerial candidate for the 2014 Lok Sabha elections.
Advani and his camp had been pressing all along to postpone the decision till the end of Delhi, Chhatisgarh, MP and Rajasthan elections in November, but the RSS top brass stood firm on naming Modi by Friday.
BJP chief Rajnath Singh and former party chief Nitin Gadkari had been constantly persuading Advani to accept the leadership's move to  name Modi as PM candidate, but the Advani camp stood adamant.  
Late in the evening, Leader of Opposition Sushma Swaraj, said to belong to Advani's camp, cancelled her Ambala tour fixed for Friday and decided to stay in Delhi for the parliamentary board meeting.
Rajnath Singh met Dr Murli Manohar Joshi late on Wednesday night. Joshi said he will abide by RSS and party line, but added that the chief ministers of BJP ruled states should also be consulted. Joshi will be out of Delhi on Friday as he will be visiting Sagar, Madhya Pradesh.  
Before Rajnath's meeting with LOP Sushma Swaraj, BJP headquarters sent a message to all state party  HQs to be ready for celebrations after Modi's annointment as PM candidate.
Rajnath met Sushma at her residence on Thursday. Both felt that there should be no repeat of Goa, I.e. consensus on issue of announcing PM candidate. Sushma said the decision should be taken in Parliamentary board meeting.
Rajnath met RSS Gen Secy Bhaiyaji Joshi  and apprised him of the inputs he got from meeting these leaders. RSS gave  the final go ahead to anoint Modi as the PM candidate. Finally the parliamentary board meeting was called for 5 pm Friday.