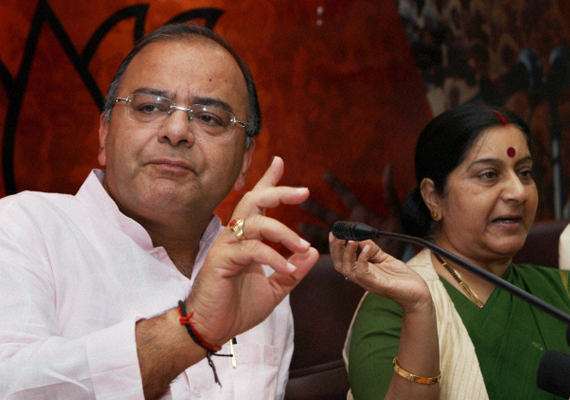 New Delhi, Aug 27: A combative BJP today demanded that the Prime Minister Dr Manmohan Singh should resign and the allotments of all 142 coal blocks be cancelled in the light of CAG report.
Addressing a press conference,
Sushma Swaraj
and
Arun Jaitley
, leaders of opposition in Lok Sabha and Rajya Sabha respectively, alleged that Congress has collected 'motaa maal' (huge money) in lieu of allotment of coal blocks.
Asked by a mediaperson whether she was demanding either resignation or cancellation of coal blocks allotment, Sushma Swaraj emphatically said: "There is no either/or, these are the two main demands."
On the prime minister's statement, BJP leader Arun Jaitley said: "History has vindicated the CAG about the huge loss to national exchequer in the 2G spectrum scam, and CAG will be vindicated again when the 142 block allotments are cancelled and opened for competitive bidding."
Asked about lack of support from the Left and other parties on the demand for PM's resignation, both Swaraj and Jaitley said : "On the issue of fighting corruption, even if we stand alone, it will be a majestic isolation, because the people are with us. All our allies are already with us."
Sushma Swaraj demanded that the prime minister should take "moral responsibility" and resign, and the allotment of all 142 coal blocks be cancelled.
Explaining the contours of what he called a scam, Jaitley said, the concept of competitive bidding for coal blocks came as early as June 28, 2004. "The government took 2 months to insert a small amendment in the law, and after it was passed, it took another 18 months to notify it.
"When all the stakeholders knew that competitive bidding would soon be introduced, the doors were suddenly opened for allotment of coal blocks.  The government did not take money from any of the parties who got the coal blocks", Jaitley said.
On the PM's assertion that the CAG's observations would be contested before the Public Accounts Committee as they were disputable, Jaitley said: "If you can't subvert the CAG, you assault the CAG. That's the PM strategy which we strongly disapprove."
"Given the track record of the investigative agencies, this appears to be a fit case for a probe by an SIT (special investigative team)", Jaitley said.
Sushma Swaraj alleged that the prime minister purposefully delayed competitive bidding in order to help the Congress party's coffers.
Asked whether there was any point to which the BJP could agree, both the leader said: "Our position remains firm, and there is no question of retreat."
On BJP MPs vociferous protests inside Lok Sabha today during the PM's statement, Jaitley said: "There was no personal disrespect to the prime minister, but we wanted to highlight the monumental corruption that has taken place."