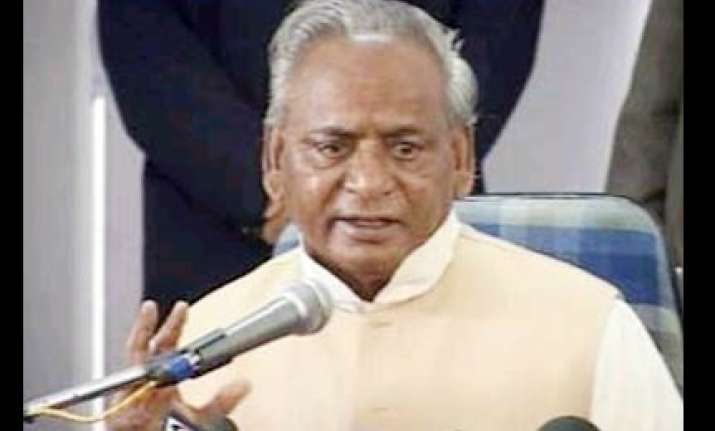 Former UP chief minister and independent MP from Etah Kalyan Singh on Tuesday described the assault on Samajwadi Party MLA Abu Azmi in Maharashtra Assembly by MNS legislators as an "act of Talibanisation" and said that a case of treason should be registered against the MLAs and their leader Raj Thackeray.
"The date of November 9 would be remembered as black day in Indian political history as Abu Azmi was openly attacked by MNS MLAs on the floor of the state assembly in front of the Chief Minister and other leaders. This act by Raj Thackeray's MNS is nothing but that of extremism and Talibanisation," Singh told reporters in Delhi.
The former Chief Minister said that a case of treason should be registered against Thackeray and his MLAs who were involved in the incident.
Azmi was on Monday beaten up by MNS MLAs inside the state assembly when he was taking oath in Hindi. MNS had earlier issued a diktat to all MLAs to take oath in Marathi.
"Mere suspension of the four MLAs is not enough. A case of treason should be registered against Raj Thackeray and his MLAs by the state government. The slap on Azmi's face is a slap on the national language and on the unity and integrity of the country. I appreciate Azmi's courage for taking oath in Hindi in Maharashtra assembly, which was his fundamental right. He has acted as a true nationalist," Singh said.
Describing the MNS MLAs' action as more dangerous than terrorism, the MP said that all parties should unitedly criticise the incident and if strict action is not taken against Thackeray and his MLAs then it could lead to grave danger to the nation in future.
Attacking the Congress-NCP government in Maharashtra for not taking stringent action against the legislators, Singh alleged that to a great extent the state government is also responsible for the incident.
"I don't understand what was the motive of the state government in letting the incident happen. Had it been a strong administration, then strict action would have been taken against MNS MLAs as against merely suspending them. Those in power don't want to touch Raj Thackeray," Singh alleged.
Singling out the Congress, the MP said that for the sake of vote bank politics, it strengthened MNS to weaken the opposition in Maharashtra during the recent assembly elections there.
On the fatwa issued by Jamiat Ulama-i-Hind over singing of Vande Mataram, Singh said that there should not be any opposition to it as it is a patriotic song and was a cry of freedom during British rule. PTI