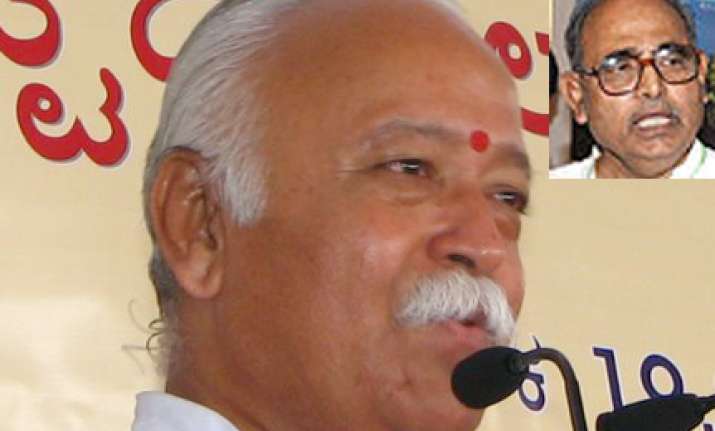 Accusing the Centre of 'dilly-dallying attitude' on the border issue with China, the Rashtriya Swayamsevak Sangh (RSS) on saturday suggested the government adopt an aggresive policy and enhanc the strike potential of Indian armed forces on Indo-Tibet border. 
RSS also said the government should act in keeping with the resolutions adopted by the Parliament on November 14, 1962. 
"The Centre has adopted a dilly-dallying attitude towards resolution of the disputed issues relating to the border with China," RSS media in-charge Madan Das Devi told reporters on the penultimate day of a three-day executive committee meet in Rajgir (Bihar).
Devi said the RSS reminded the Centre of the resolution which had been unanimously adopted by Parliament on November 14, 1962 and said the government must act in keeping with the sentiments of the resolution. 
"In the resolution, it has been clearly talked about taking back the entire land captured by China ... We should not leave even an inch of our land with China," the RSS leader said. 
"India should ask China to recognise the Line of Control (Mcmohan line) as the international border on the lines of the China-Myanmar border," Devi said. 
Devi said "only an aggressive policy coupled with sustained stand by India can reap favourable results". 
The RSS in its resolution also urged the government to take immediate steps to strengthen the borders with Tibet, Pakistan and Bangladesh. 
Devi said the meeting also suggested the Centre to increase the striking potential of armed forces on the Indo-Tibet border in the light of Chinese forces there and its efforts to strengthen infrastructure. 
"China has always used diplomatic dialogue and encouraged our enemies to disturb India
 It has also set up a patrol post on Coco island in South Myanmar and has made it a full-fledged army post, "Devi contended. 
RSS said China wanted to demonstrate that Arunchal Pradesh and Kashmir were not an integral part of India and "it is a matter of serious concern that China is issuing paper visas to citizens of Arunachal Pradesh and Kashmir." 
The RSS asked the Centre to order immigration officials that they should immediately ban the use of paper visas for Indian citizens. 
The RSS resolution said the executive committee also underlined similar concerns over Indo-Pak border. 
The committee demanded that government abide by the sentiments expressed in the resolution unanimously adopted by Parliament on February 22, 1994, about Pakistan which firmly stated taking back Pak-occupied Kashmir areas. PTI