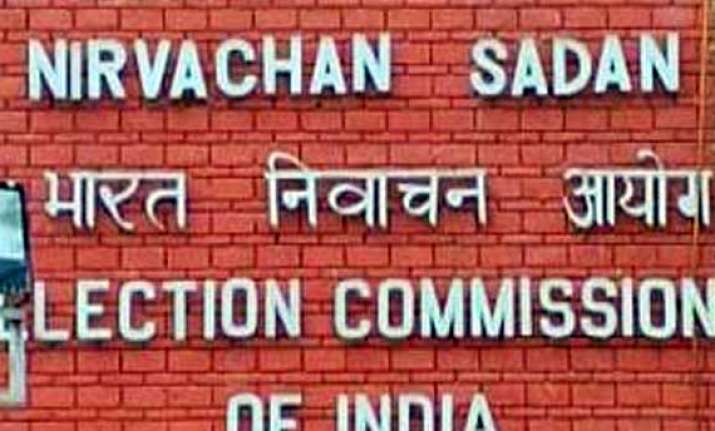 New Delhi: A person against whom charges have been framed in a criminal case should be barred from contesting polls, the Election Commission on Monday  told the Supreme Court which directed the Centre to file its response on the issue.
The Commission said framing of a charge is done after judicial scrutiny of the evidence and the accused person should not be allowed to contest election as he ceases to have requisite excellence and integrity for public office.
"It is stated that where a person has been accused of serious criminal charges and where the court is prima facie satisfied about his involvement in the crime and consequently charges have been framed against such person, then in such cases, keeping such person out of the electoral arena would constitute a reasonable restriction for serving the larger public interest," the commission said in its affidavit.
"At this juncture, the integrity and character of the accused is under scrutiny and he ceases to have requisite excellence and integrity to be considered as a candidate for a high public office involved in the administration of the country," it said.
Appearing before a bench headed by Justice R M Lodha, advocate Meenaxhi Arora, appearing for the Commission, said the doctrine that a person is presumed innocent until proven guilty should not be applied to right of a person to contest election.
"It is pertinent to note that the framing of a charge against an accused is done after the allegations and evidence have undergone judicial scrutiny and application of judicial mind by a competent court. Thus only after judicial notice has been taken of the charges against the accused and the court finds that a prima facie case exist against the accused, charge is framed," she said.
The apex court, however, expressed apprehension of such provisions being misused and also said that lengthy legal process between framing of charges and final disposal of case cannot be lost sight of.
"The objective is to bring purity in election. We also have to take care that process is not misused. We want to ensure that criminals do not enter legislative bodies but it has to be done by legislation," the bench said.
In order to prevent misuse, the Commission said that only those cases which were filed prior to six months before an election be considered for the purposes of disqualification in order to prevent its misuse by the ruling party.
"Since the confidence of the litigant public gets affected or shaken by the lack of integrity and character of the candidate against whom judicial notice of severe criminal charges has been taken, such candidate must be barred from contesting elections," it said, adding, "persons found guilty by the Commission of Enquiry should also stand disqualified".
The apex court pulled up the Centre for not responding to its notice issued around two years back and directed it to file affidavit within six weeks.
Additional Solicitor General Paras Kuhad submitted that the Parliamentary Standing Committee has already rejected the recommendation of the Commission.
The court was hearing a PIL seeking direction to debar people with criminal background from contesting elections.
In order to cleanse the legislative bodies from criminal elements, the apex court had on July 10 held that an MP or MLA convicted for any criminal offence attracting a punishment of two years and above will be disqualified immediately and a person, who is in jail or in police custody, cannot contest election to legislative bodies.
It had declared as unconstitutional a provision in the Section 8(4) of Representation of the People Act that says a convicted legislator can continue in office if he or she appeals in a higher court within three months of the conviction.
The verdicts have been widely opposed by politicians cutting across party lines and the centre filed a review plea which the apex court agreed to hear in open court.
A bench of justices A K Patnaik and S J Mukhopadhaya decided to hear the review plea, which is normally decided by judges in chamber, in open court and posted the matter for hearing on September 4.