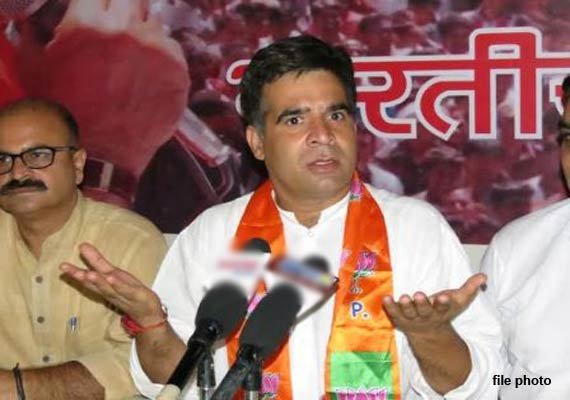 Jammu: A case has been registered against PDP workers who allegedly attacked and injured BJP candidate from Nowshera, Ravinder Raina, who has been admitted to the ICU of a government hospital today, even as BJP hit out at PDP and vowed to raise the matter before the EC. "A First Information report No 197 of 2014 has been registered in this direction in Police Station Noushera today," Senior Superintendent of Police (SSP), Rajouri Mohmmad Haseeb told PTI.
No one has so far been arrested, SSP said, adding that five persons including three workers of BJP and two of PDP were injured, and that action would be taken against the two PDP workers once they are out of the hospital.  Raina, who is also Bhartiya Janta Yuva Morcha's state president, was among five persons injured in the clash which broke out after some PDP workers allegedly attacked his cavalcade when it was passing through Lambari belt of Noushera of Rajouri district last night.
He has been admitted to the Intensive Care Unit (ICU) of the Government Medical College (GMC) hospital, where he has been kept under observation.
"Raina has been admitted to ICU in GMC hospital today. He has been kept under monitoring as he has injuries in head and abdomen," Superintendent of GMC hospital Dr Ram Rattan Paul told PTI.
"CT scans and other tests have been done this evening.  They are OK and condition is by and large stable but is being kept under monitoring," Dr Paul said.
Asserting that such attacks would not be tolerated, BJP spokesman Sunil Sethi today hit out at PDP and said they would be making complaint to Election Commissioner in New Delhi over the failure of police in taking action and safeguarding its candidates.
Hitting out at PDP, Sethi said, "Is this Mufti Sayeed preaching to workers and leaders to attack others. He should come and see the behavior of his leaders and workers," and condemned the attack.
Claiming that the attacks were because other parties were frustrated over BJP's increasing popularity in the state, Sethi said, "We are going to lodge a complaint with Election Commission in New Delhi.
Police has failed to protect our leaders. It is their failure and they have acted on PDP side".  Tension has gripped the region following the incident in Rajouri district as well in Jammu, where BJP workers held demonstrations.