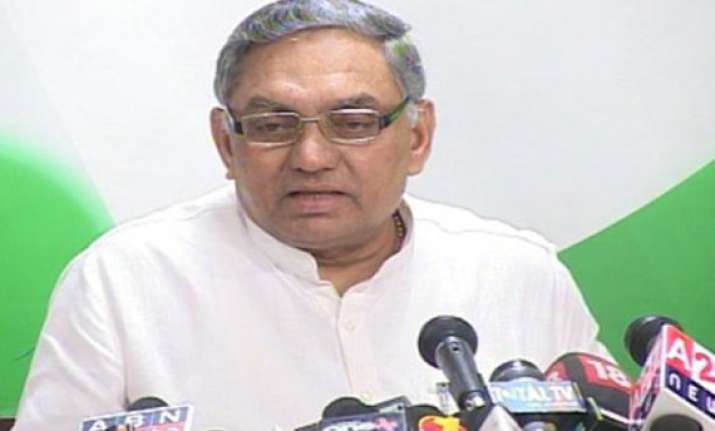 New Delhi, June 28: Cracking the whip, Congress today suspended tribal leader Arvind Netam from the party with immediate effect hours after he backed P A Sangma in the Presidential race.
"Arvind Netam has been suspended from the party with immediate effect", Congress General Secretary Janardan Dwivedi said.
The announcement came close on the heels of 70-year-old Netam, a former Union Minister, who jointly addressed a press conference with Sangma today and made a strong plea for support to the BJP-backed opposition candidate.
Netam said that the Tribal Forum of India reached out to various political parties for support in the Presidential poll, but the Congress failed to respond.
"We are happy that Sangma is a candidate from the Tribal Forum of India", he said.
Sangama during the press interaction shortly before he filed the nomination had said that the Forum held a meeting on May 9 under Netam's leadership and it was unanimously decided to field a tribal candidate for the Presidential poll.
Netam said that the Forum had shortlisted six tribal leaders, including Sangma, as possible Presidential candidates. They included three names from the Congress and one from the BJP.
Earlier, reports had it that they included Union Minister V Kishore Chandra Deo, S C Jamir and Netam (all Congress) and Lok Sabha Deputy Speaker Karia Munda (BJP) and J M Lyngdoh (Former Chief Election Commissioner).
A group of tribal leaders including him and Netam had gone around meeting non-Congress leaders to seek support in the Presidential bid, Sangma said.
The former Lok Sabha Speaker said that the Forum had also sought an appointment with the Congress President and he and Netam waited in Central Hall of Parliament on three days, "but unfortunately we did not get an appointment".