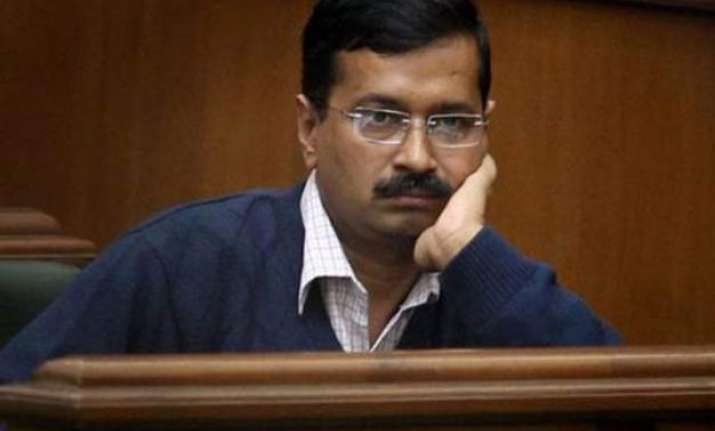 New Delhi: Delhi Chief Minister Arvind Kejriwal has resigned from the post of national convener of Aam Aadmi Party (AAP), according to sources.
The final decision on Kejriwal's resignation will be taken by the National Executive of the party that is scheduled to meet today.
In his resignation, Kejriwal is believed to have said that it's not possible for him to discharge two big responsibilities simultaneously.
According to sources, Kejriwal had handed over his resignation to Pankaj Gupta in the last meeting of party's National Executive.
His resignation will be discussed in today's meeting for taking a final decision in this matter.
ALSO READ: Won't quit, crisis within an opportunity for AAP: Yogendra Yadav
AAP leader Ashutosh said that Kejriwal had offered to resign in February on the grounds that he couldn't do justice to his role as the national convenor. We had rejected the resignation, he said
"It is nothing new and the resignation was pending with the national executive," he said.
Meanwhile, Ahead of the crucial national executive council (NEC) meet today, senior Aam Aadmi Party (AAP) leader Yogendra Yadav said that he is hopeful of some good news coming out from the meet.
"AAP was born out of hopes and aspirations of people, these hopes cannot go in vain, you will hear good news in the evening," he said.
Interestingly, Yadav also heaped praise on party's Delhi unit convenor and secretary Dilip Pandey for honestly writing about his 'anti-party activities'.
"Whatever Dilip ji has written in the letter about me, is full of bitterness. But party will never get an honest worker like him... he has sacrificed a lot for the party. If Dilip ji is speaking something, it doesn't mean that he is a wrong person," Yadav said.
ALSO READ: Prashant, Yogendra may be out of PAC today
"If I have done anything wrong, I should be punished for that. If I have violated discipline, action should be taken," Yadav added.
He also said that if the NEC today decides to remove him from the highest-decision making body, Political Affair Committee (PAC), he will continue to serve the party as a worker.
"If I am not capable enough to be in PAC, I should be removed, but leaving a post doesn't mean I will leave party. Who should be member of PAC is not an issue, issue is ensuring greater say of volunteers, afterall it's their party," Yadav, who unsuccessfully contested last Lok Sabha polls from Gurgaon, opined.
"If not in PAC, will continue to work, All I want to say is - 'na todenge na chhodenge, sudhaarenge, khud bhi sudhrenge," he added very quickly.
ALSO READ: No personality clash, Kejriwal compromised on party ethics: Prashant
Yadav, however, accepted that there are differences within the party on several issues but such signs are good for internal democracy.
"No political party, family or office can say all is well, there are issues and difficulties. It is only through these tests of fire, we shall come out and say yes we are different. Who should be the convener of party is not an issue, issue is about strengthening internal democracy within party," Yadav, a well-known political pundit said.
"We have a huge mandate, this is a moment to work with large heartedness, we represent hope, those hopes will not be dashed," Yadav further said.