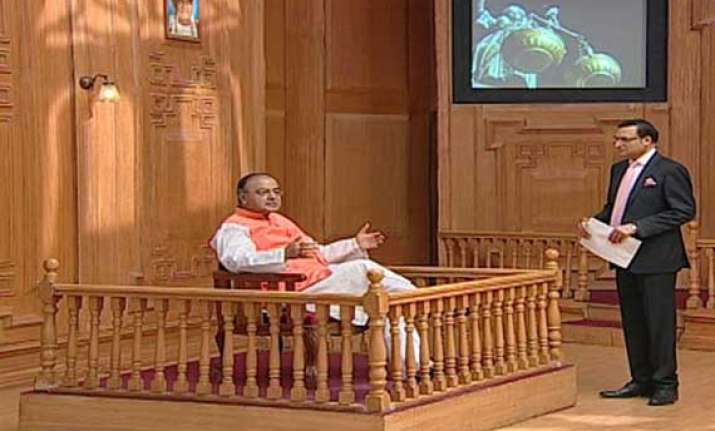 New Delhi: Finance Minister Arun Jaitley today promised more concessions in Income Tax if the economy improved next year.  
Replying to questions on the Union Budget in Rajat Sharma's show Aap Ki Adalat, (to be telecast on India TV tonight), Jaitley claimed that for the first time since Independence, his was the first Budget in which income tax exemptions were given across all three taxpayers' categories for the first time.
"We do not want a high taxation regime. It was because of the high taxation regime of the previous government that inflation rose.  I think there was never a Union Budget since 1947, which gave Rs 50,000 concessions across all three classes of tax payers, right from the lower to the middle and higher income brackets", said Jaitley.
"Had the Centre more money in its coffers, I would have given more (relief). May be, if the government has more money tomorrow, I will raise (the concessions)", he added.
The Finance Minister said, he expected the taxpayers to spend more and save more, which, in turn, would lead to higher economic growth and give a boost to manufacturing sector, which had been seeing negative growth in the last two years.
He strongly defended the government's policy to allow 49 pc FDI in defence sector, saying that he would prefer companies headed by Indians with 49 pc FDI manufacturing defence equipments in India, rather than opting for importing defence equipments.
"As far as I know, it was Sonia ji (Congress President) who had been opposing 49 pc FDI in defence, and was preferring imports of defence equipments", said Jaitley.
Jaitley, who also holds the Defence portfolio, pointed out that 26 pc FDI in defence was permitted during the previous NDA regime under Atal Bihari Vajpayee.
"We are the largest importer of defence equipments in the world. For the last one and a half months, most of the foreign leaders who came to meet us were pitching for sale of their defence equipments.
"It would be wiser if we have companies in India with 51 pc Indian equity, getting foreign technology and investment and manufacturing defence equipments here", Jaitley said.
Jaitley indirectly hit out at the Nehru-Gandhi family, over some Congress leaders objecting to Rs 200 crore allocated in the Budget for erection of Sardar Patel statue in Gujarat.
"I would rather want hundreds of memorials for Sardar Patel across India. I consider Patel as the tallest leader since Independence. It was he who brought about the merger of 550 princely states in the Indian Union within two and a half years of Independence.
"The Indian political map that we have today is because of Patel. Pandit ji (Nehru) took up one issue, that of Jammu and Kashmir, and look where we are today on Kashmir.
"If the Gujarat government is erecting the world's tallest statue in Narmada river, the Centre must contribute, and I would like the state governments to contribute too.
"I do not know why the Congress leaders are objecting. Maybe because Patel did not belong to a particular family. After Independence, certain families were glorified, but those who contributed more to the nation were less glorified.
"I remember Rajmohan Gandhi, while writing a book on Patel, had to spend several months only to find out the name of Sardar Patel's wife, because his family was never glamorized."
On Congress leaders questioning the lack of any reference to black money in his budget speech, Jaitley pointed out that the budget was an accounting statement and there was no need to mention the issue of black money.
"Let me remind you, the Modi government in its first cabinet meeting decided to set up the special investigation team under Supreme Court to probe black money stashed in offshore accounts. I directed my ministry to hand over all details related to offshore black money to the SIT, except in cases where there are international commitments (not to reveal names).
"When the Swiss authorities indicated that they were ready to give details of Indians having accounts in Swiss banks, our ministry immediately sent them a letter seeking details. Our government does not have any  sympathy towards people having black money", said Jaitley.
On former Finance Minister P Chidambaram's remarks that the budget speech was only a reiteration of the policies and targets of the UPA government, Jaitley said: "I would then be very happy if the Congress supports our budget. But I know they won't support. The UPA government had left the economy in a mess".
Jaitley expressed optimism about introducing the Goods and Service Tax this year. "It was Chidambaram who had proposed GST in 2006-07. We called the state finance ministers twice within a month. Their initial questions were, if the Centre usurps our rights to collect taxes, how can we trust the Centre on giving us our dues? When we were in the opposition, we had similar reservations.
"We are hardly 50 days in office, and there are unpaid bills of states pending for the last 5 years. I would rather pay off those bills first. When the revised grants will come, I will have to see from where I can pay those bills. At least, I am hopeful about the GST. The two states that are raising the issue of unpaid bills are Gujarat and Punjab, both NDA governments.
"After we pay off their bills, we will then introduce the GST. This will increase our GDP, reduce tax evasion and also reduce undue harassment to industry".
Aap Ki Adalat
with
Finance Minister Arun Jaitley
will be telecast tonight on
India TV
at
10 pm
. The repeat telecast will be on
Sunday (July 13)
at
10 am and 10 pm
.