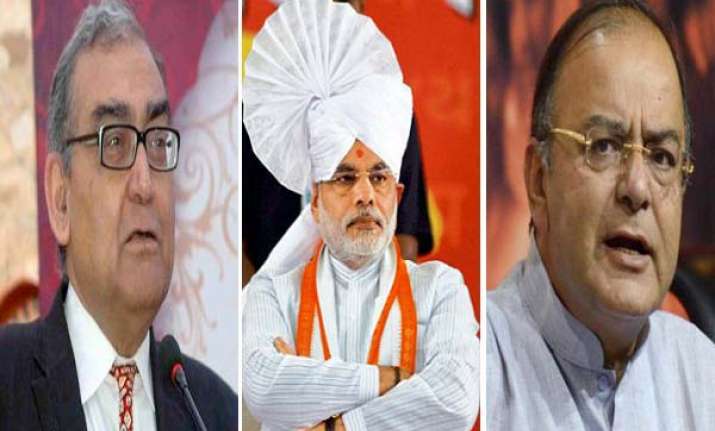 New Delhi/Patna, Feb 18: Under attack from BJP, Press Council chief Markandey Katju today accused opposition leader Arun Jaitley of making "reckless" allegations by twisting facts and said he should take "sanyas" from politics.
Sticking to his remarks on Gujarat Chief Minister Narendra Modi which had drawn him Jaitley's ire, Katju, a former Supreme Court judge, said, "Mr Arun Jaitley has demanded my resignation, I demand Mr Arun Jaitley's resignation."
"He has made reckless remarks against me, called me a megalomaniac and all kinds of most derogatory language he has used. It was most unbefitting of a person who claims to be of his stature. So, infact, he should resign and take 'sanyas' (retirement). He is not fit to be in politics," he told reporters here after the BJP demanded his sacking for his "political" remarks.
Rejecting Jaitley's charge that he was biased against non-Congress governments, the PCI chief said, "The way a person who twists facts, who accuses me of only commenting against non-Congress governments when the fact is that I've also commented against Congress governments."
Responding to BJP's criticism on post-retirement jobs for judges, Katju said that the BJP leader was forgetting that when the NDA government was in power and he was the Law minister, a number of appointments of retired judges to various posts had taken place.
"So what nonsense is Arun Jaitley talking? His own government made so many such appointments. At that time why did Mr Arun Jaitley not object to these appointments being made by NDA government," he said.
The PCI chief said that if Jaitley felt so strongly against post retirement appointments, then "he should have said that BJP is doing something wrong and I am resigning".
"Did he ever raise the voice when his government was making post retirement appointments. He never made a whisper. And so far as the chairman of Press Council is concerned, this post by convention has been given to retired judges of Supreme Court," Katju said.