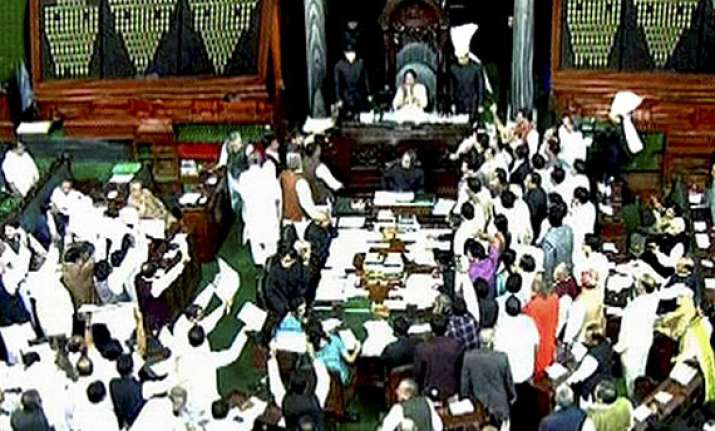 New Delhi, Nov 23: It was another day of disruptions in parliament Friday with both houses adjourned as differences between the government and the opposition continued over the issue of foreign investment in multi-brand retail.
Both houses were adjourned till Monday as the Bharatiya Janata Party (BJP) along with the Communist Party of India-Marxist (CPI-M) and the Trinamool Congress continued their protest over the FDI issue. Thursday, which was the first day of the winter session, saw similar disruptions.
The Lok Sabha was adjourned for the day shortly after noon.
The Rajya Sabha, which was adjourned several times and then for the day after it met at 2.30 p.m., also saw a ruckus over the issue of reservations for the Scheduled Castes and the Scheduled Tribes in job promotions.
A constitutional amendment bill providing reservations to the Scheduled Castes and the Scheduled Tribes in job promotion is listed for this session. Bahujan Samaj Party (BSP) members, however, are demanding it should be passed first.
The BJP alleged the BSP was doing it for the Congress.
"The Congress has made the BSP raise this issue as it does not want a debate on FDI (foreign direct investment) in retail," BJP leader Smriti Irani told IANS.
The Lok Sabha and the Rajya Sabha were initially adjourned till 12 noon but furore continued even after that. Finally, the Lok Sabha was adjourned for the day and the Rajya Sabha till 2.30 p.m.
As soon as the Rajya Sabha proceedings began, members of the BSP came close to chairman's podium, raising slogans.
"Pass the bill for reservation in promotion first," the BSP members shouted.
Amidst the din, a report of the select committee on the Lokpal Bill was tabled in the upper house. The bill is listed for the ongoing winter session.
The Lokpal and Lokayuktas bill was passed by the Lok Sabha at the end of the winter session last year. It was sent to the select committee in the budget session after several objections were raised on its present form.