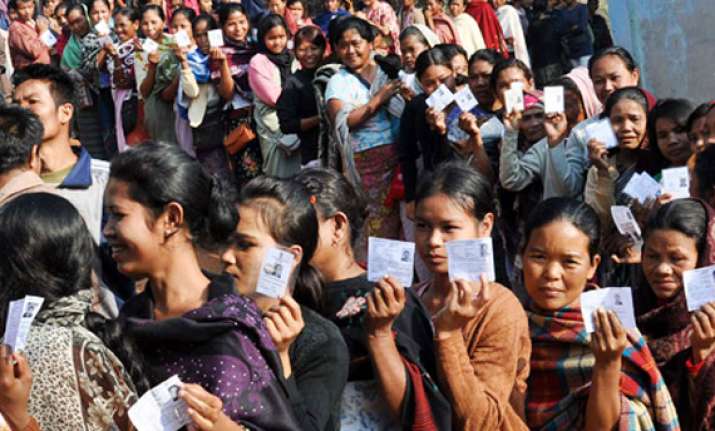 Shillong, Feb 27: With counting of votes in Meghalaya set for Thursday, both the ruling Congress and non-Congress parties are confident of winning the elections.
A whopping 88 percent of the 1.5 million voters exercised their franchise Feb 16 to pick a new 60-member house in the state bordering Bangladesh.
There were 345 candidates, including 25 women and 122 independents.
But some experts fear that Meghalaya may be headed for a fractured mandate.
"I have always believed that Meghalaya will never get a clear mandate since elections here are conducted based on the personality of the candidate and trivial issues," A.K. Baruah, a retired professor of political science who taught at the North Eastern Hill University here, told IANS.
Carved out of Assam in 1972, Meghalaya has seen 23 chief ministers in a span of 41 years.
Captain Williamson Sangma, who led the government for the first time, was the only one to ever lead a single-party government in the state.
Since then, Meghalaya has seen fractured mandates, leading to volatile coalition governments.
However, outgoing Chief Minster Mukul Sangma, 47, hopes to return to the assembly for a fifth consecutive time from Ampati constituency.
"We are close to half-way mark and we are hoping to get more," the Congress leader told IANS on telephone from Tura in West Garo Hills.
The Congress fielded candidates in all 60 constituencies while the United Democratic Party (UDP) contested 50 seats.
The Purno Sangma-led Nationalist People's Party (NPP) had 32 candidates, and the Nationalist Congress Party 21.
The UDP is confident of ousting the Congress.
"We will cross 15 seats and if luck favours we might even cross 20," UDP leader Bindo M Lanong said.
Lanong said UDP was in touch with "like-minded parties" for post-poll alliances.
Predicting a Congress failure, Purno Sangma's son Conrad, leader of the opposition in the assembly, claimed that Chief Minister Mukul Sangma would bite the dust.
"We are hopeful of increasing our tally," Conrad told IANS.