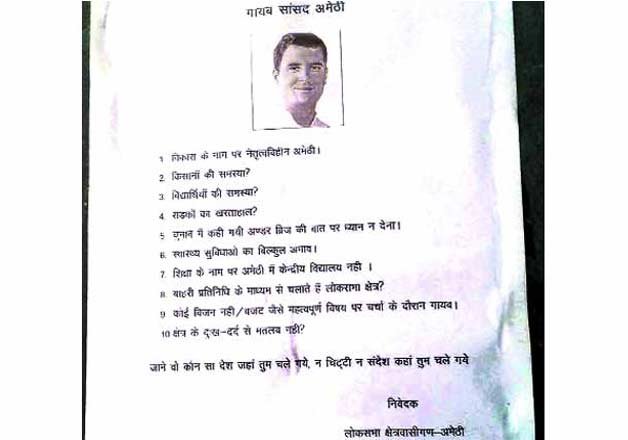 Lucknow: A month after Congress Vice President Rahul Gandhi went on a sabbatical; posters have come up in his Lok Sabha constituency Amethi hailing its "lost MP".
The posters announcing reward for one who finds Rahul lists 10 distinct problems being faced by the people in absence of their elected MP.(scroll down for video)
The 10 problems mentioned are - Amethi is leaderless in the name of development; poor condition of roads; farmers and students facing problems; lack of health facilities; no Central School; no work on the promise of an under-bridge made during election; manages Amethi through a representative who is an outsider; does not have any vision, went missing during important debate on Budget; and, is not concerned about problems and grievances of the constituency.
The appeal made by the people of Amethi Lok Sabha constituency says in the end, "Jane woh kaun sa desh jahan tum chale gaye, na chitthi na sandesh, kahan tum chale gaye (We don't know which place you have gone to…No messages, no letters where have you gone?)".
ALSO READ: Posters in Allahabad promise huge reward for info on Rahul Gandhi's whereabouts
Similar posters have also come up in different districts including Bulandshahr and Allahabad however; Amethi became a cause of concern for Congress workers, who had to spend the entire day removing them from public places.
Although the posters do not carry any name or number, Congress leaders term it as BJP's play.
Yogendra Mishra, president, Amethi district Congress said, "It is the work of BJP. They do not have any respect for personal life of anyone."
Slamming the allegations, BJP spokesperson for Amethi, Govind Singh said, "We have not put up these posters, which seems to be work of some locals. But like any other resident of this constituency, we also want to know why he left during the Budget session instead of raising issues of his constituency," he said.