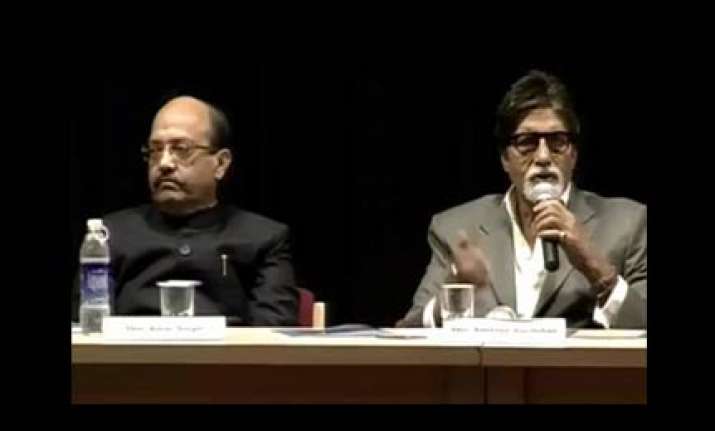 Expelled Samajwadi Party MP Amar Singh on Tuesday in Pune shared the dais with mega-star Amitabh Bachchan, two days after he expressed reservations over Jaya Bachchan not quitting the party and joining him.
Singh, a Rajya Sabha MP, was seen engrossed in talk with Amitabh during a function organised by a private educational institution here.
At the function, the 67-year-old Bollywood superstar replied to questions from the audience on various aspects of commercial cinema, art films and on his preferences as an artiste.
Both Singh and Amitabh did not talk to reporters after the programme.
On Sunday, Singh had said that he "misses" Jaya Bachchan and wants her to join him since she too was unhappy with party affairs, suggesting that she should quit SP.
"Jaya ji says she misses me in SP. I want to say that I also miss her today on this dais," Singh had told a 'Kshatriya Mahakumbh' rally in New Delhi.
Jaya, he had claimed, "has been unhappy within the affairs in SP and had also asked me to remain patient and keep up with what was happening, instead of raising my voice.
"But being a kshatriya I could not keep quiet. There is a limit for tolerating," he had said, claiming that SP leaders have publicly attacked her and her family and she should take serious note of it.
Singh had said he was not angry with the Bachchan family with whom he has a close association despite Jaya choosing to remain with SP after his expulsion. PTI