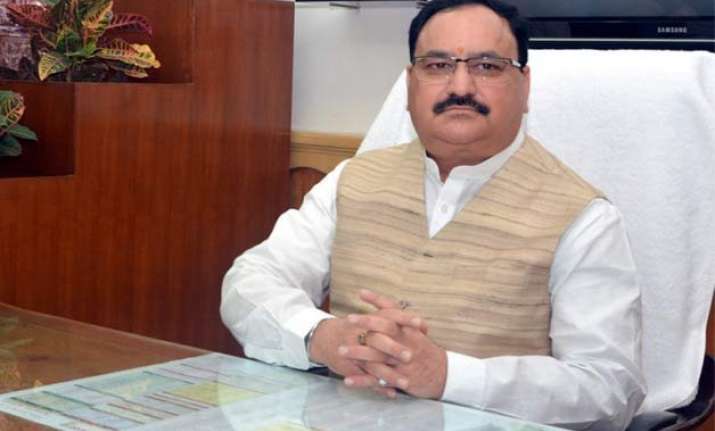 New Delhi: Government plans to set up 72 cancer centres in different parts of the country, Health Minister J P Nadda told Lok Sabha today while noting that cases of non-communicable diseases are rising at an "alarming rate".
He also urged states to ensure "optimal utilisation" of health sector funds allocated by the Centre.
"We were facing rising incidence of communicable diseases. Now, non-communicable diseases are increasing at an alarming rate," Nadda said during Question Hour.
The incidence of diabetes, hypertension and cancer are on the rise and these diseases are mainly linked to lifestyle, he added.
He said efforts are being made to increase capacity to deal with cancer and focus is on primary screening to detect and treat the disease at the early stage itself.
The government plans to set up 2 national, 20 state-level and 50 tertiary cancer centres in different parts of the country, Nadda said even as he acknowledged that "much more needs to be done".
These institutes would be getting about Rs 20-45 crore depending on their capacities, he noted.
At present, there are 27 Regional Cancer Centres (RCCs). According to him, other streams of medicine need to be integrated with existing system for treating cancer.
Expenditure on health sector needs to be increased but states have to spend more since as much as 20 per cent of funds allocated by the Centre remain unspend, Nadda said.
"There should be optimum utilisation of funds allocated by the Centre to states for health sector," the Minister said.
To another query, Nadda stressed that spending on health sector has not been reduced and only that more funds are being devolved to states.
"The core public health expenditure of Centre and State during 11th Plan period stood at 1.04 per cent of GDP. The public expenditure in health sector is estimated at 1.11 per cent of GDP in 2013-14 (revised estimate)," he said and noted that private expenditure data is not centrally maintained.
Presently, funding of public health expenditure is met from government budgetary resources. The policy envisages general taxation as the major source of financing of the public health sector, he added.
With regard to Rashtirya Arogya Nidhi (RAN) programme, the Health Minister said financial assistance of more than Rs 2 lakh that can run up to Rs 10 lakh can be provided depending on cases.
Under RAN, financial assistance is provided to patients living below poverty lines and suffering from life threatening diseases to receive medical treatment in any government hospital.
Such financial assistance is given as one-time grant. In this regard, revolving funds for providing up to Rs 2 lakh assistance have been set up in 12 central government hospitals.
"Financial assistance is provided from RAN headquarters for cases referred by government hospitals/institutions, which do not have a revolving fund and for cases referred by 12 government hospitals/institutions with revolving funds for assistance exceeding Rs 2 lakh," Nadda said.
Government spends about Rs 18,000-20,000 crore towards National Health Mission (NHM) every year while primary and secondary healthcare are priority areas under the programme, Nadda said.