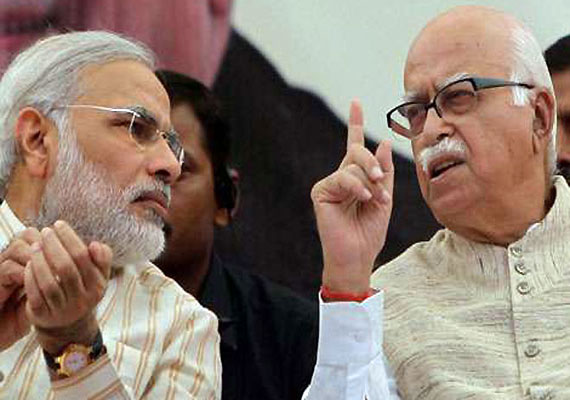 New Delhi: Senior BJP leader L K Advani is reported to have remarked at the party's central election committee meeting finalizing candidates that the BJP is becoming a one-man party.
A Delhi newspaper The Economic Times quoting sources present at the meeting reported that Narendra Modi, L K Advani and party chief Rajnath Singh were sitting in the meeting, when Advani made the remark.
The source told ET that Advani said at the meeting, he agreed with Rahul Gandhi's remark made in Haryana on Feb 24, that BJP has been reduced to a one-man show.
When another BJP leader suggested that BJP should counter this perception, Advani reportedly said 'Ther's nothing wrong with what he (Rahul) has said."
The source said there was uncomfortable silence inside the room, when Advani made the remark. Narendra Modi kept quiet, while other leaders did not take the point forward, reports the newspaper.  
Party chief Rajnath Singh, seated on the other side of Advani, broke the silence and started talking about candidate selection, for which the meeting was called.
The newspaper report said, Advani, on other occasions, is reported to have told party leaders that "campaigning is a joint effort by the party where all senior leaders should take part.  This time it is Modi and only Modi who is visible. What about others like Sushma Swaraj who are capable of holding the crowds' attention".
Modi supporters however say, Advani is out of tune. "Every state unit is sending requests for Modi rallies. He is the biggest draw."