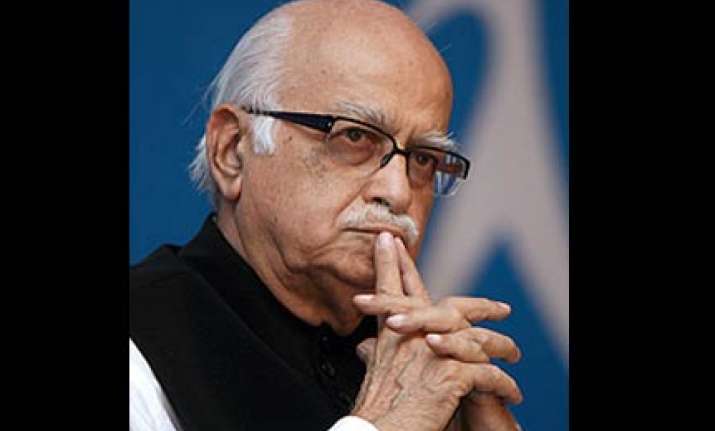 New Delhi: With the Allahabad High Court set to deliver its verdict on the Ayodhya title suit next month, senior BJP leader L K Advani on Tuesday  asked party MPs to "exercise caution" while making statements on the sensitive issue.
"On Ayodhya, L K Advani asked MPs not to make statements which are against national interest...As a national political party, we should make statements by exercising caution when the verdict is delivered," BJP Deputy Leader in Rajya Sabha S S Ahluwalia said here.
He was briefing reporters on the proceedings of the BJP Parliamentary Party meeting here.
The Lucknow Bench of the Allahabad High Court is likely to deliver the verdict on title suits next month.
Leader of the Opposition in the Rajya Sabha Arun Jaitley said the party would launch an agitation on the issue of enemy properties in the country.  
"While we supported a bill on Enemy Properties based on the Ordinance promulgated by the government, we are opposed to any amendments aimed at benefiting an individual...we have already voiced our fears that government could issue a fresh ordinance based on amendments," Ahluwalia said.  
He said out of 2,100 enemy properties in the country, 1,400 are located in Uttar Pradesh. "Out of the 1,400, 11,00 belong to Raja of Mehmoodabad," he said.
During the meeting, which was also attended by BJP President
Nitin Gadkari
, BJP Parliamentary Party Chairman L K Advani expressed "satisfaction" on the role of party MPs during the Monsoon session which ends today.
"He expressed satisfaction in BJP's role in protesting and supporting bills keeping in mind national interest," Ahluwalia said.
He said Gadkari too "appreciated" the contribution of MPs during the over month-long session.  With an estimated 82 crore workers in the unorganised sector, Gadkari informed MPs about plans to set up an organisation of workers of the sector to be christened Bharatiya Janata Kamgar Sangh. It will be launched on September 25 to mark the birth anniversary of Deen Dayal Upadhyay. PTI