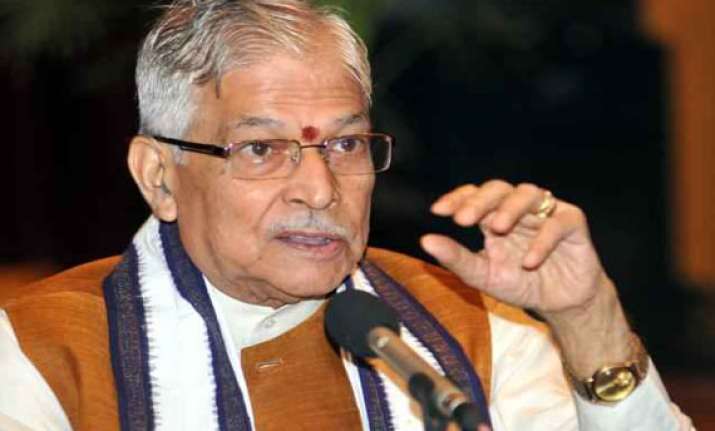 Kolkata, Feb 17: In a virtual warning to the Congress-led UPA government, opposition BJP Saturday said it should accept the party's demands on the VVIP chopper deal and the "saffron terror" remark if it wanted parliament to function in the budget session.
Addressing reporters, veteran Bharatiya Janata Party (BJP) leader Murli Manohar Joshi demanded that the government hold a comprehensive probe by a special investigation team or under the vigil of the Supreme Court into the $750-million chopper deal with Italian company Finmeccanica's subsidiary AgustaWestland.
He also pressed for an apology from Home Minister Sushil Kumar Sindhe and Congress MPs and office-bearers for "saffron terror" or "Hindu terror" remarks.
Asked whether the BJP would stall parliament on their demands, Joshi said: "This depends on the government".
"It is the government's responsibility to run parliament. If they want parliament to function, they should discuss these matters with the opposition and find out a way. And they should accept our demands with an open heart," said Joshi, a former minister of human resource development.
Describing the United Progressive Alliance (UPA) regime as the "most corrupt government", Joshi said there was "no sector where corruption has not reached the extreme point".
He said corruption was increasing because of the government's policies. "The government is also trying to hide and suppress it. The feeling is whenever the regime's corruption is brought out into the open, it puts the blame on others."
He also alleged that instead of debating the Comptroller and Auditor General's report on coal block allocations, efforts were made to give it a bad name, he alleged.
"BJP would raise all issues, particularly those involving corruption in the coming parliamentary session, and the newest scam (the chopper deal) that has come into the open, and endangers national security.
Joshi also contended that the Congress raised the pitch about "saffron terror" and "Hindu terror" to divert attention from its failures and corruption.
"Government ministers, Congress MPs and office-bearers are saying such things repeatedly. We will demand their apology in parliament. The government should make it clear that there is no relation between saffron and terrorism," he said.