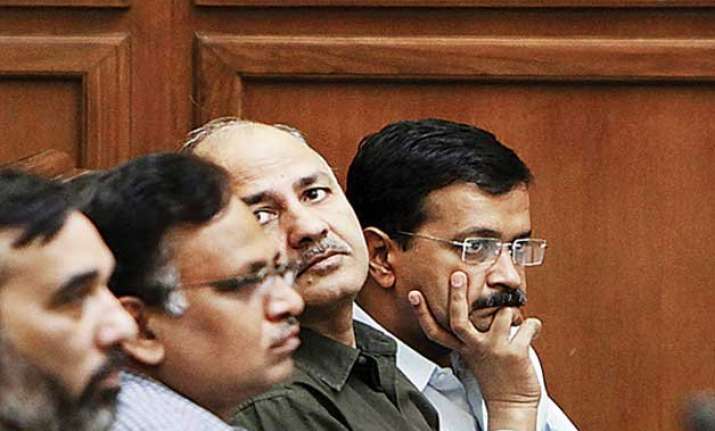 New Delhi:  The AAP government today conducted public meetings at six constituencies of Delhi in the third phase of its participatory budgeting exercise.  
Public meetings were held at various places in Dwarka, Chatarpur, Karawal Nagar, Okhla, Bawana and Patparganj.  
Delhi Chief Minister Arvind Kejriwal had on April 19 launched the 'People's Budget', or 'Janata ka Budget' initiative at Patparganj constituency with the stated aim of decentralising the decision- making process.  
As part of the effort, the government is seeking views of the voters on the budget and has said that it will include the feasible demands on priority.
According to government officials, people in most of the areas raised civic issues like sewage, clean and uniform water supply, cleanliness, maintenance and repair of roads and parks.
Demands were also made for better security and for the opening of schools and hospitals.
MLAs claimed that places with low voting population saw 100-150 people while other public meetings saw an average attendance of 200-300 people.
Public meetings last week had witnessed a bleak turnout due to the heat and light advertisement following which pamphlets were distributed by AAP volunteers asking locals to "participate in making Delhi's budget".  
"We saw a high turnout this week as we promoted the budget meeting.
Surprisingly, people in large number are asking for libraries in each area which no official ever thought of while making a plan for an area.
Civic issues got the most votes in my constituency as those are the basis demands," said Karawal Nagar MLA, Kapil Mishra.
He held 10 meetings today and 13 more are proposed tomorrow.
Each meeting was chaired by Sub-Divisional Magistrate-level officers and the MLA of the respective constituency.
Senior officials from various departments were also present to resolve public grievances.
"We held 10 meetings in our constituency and the issues of clean water supply and encroachment got the most votes along with calls for more sanitation staff.
People in Batala colony kept CCTV cameras on priority and also demanded hospital and proper sewage facilities," said Okhla MLA Amanatullah Khan.  
The exercise will continue tomorrow before the final budget is presented in Delhi Assembly in the first week of June.
According to an official, Delhi has been divided into 12 segments with Rs 20 crore having been allotted to each.
These segments will be further divided into 40 parts, so that each gets Rs 50 lakh for local works.