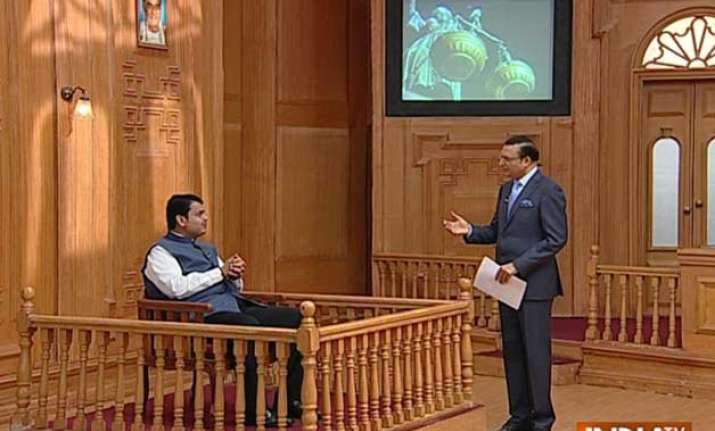 New Delhi, October 17: Maharashtra chief minister Devendra Fadnavis has ruled out the possibility of alliance partner Shiv Sena walking out of his government in the near future.
"I am 100 per cent sure. I don't think Shiv Sena will walk out. Our government will run for five years", Fadnavis told Rajat Sharma in Aap Ki Adalat to be telecast tonight at 10 pm on India TV.
The chief minister's remark comes in the wake of media reports that Shiv Sena chief Uddhav Thackeray is going to make a major announcement at his party's Dussehra rally in Mumbai on October 22.
"We had our cabinet meeting this week attended by all Shiv Sena ministers. We also had informal meetings after that. So, please remove this notion from your mind that Uddhavji is going to announce withdrawal of support on 22nd. This government is not going to fall. It will complete five years", Fadnavis said.
"I don't think we have reached any serious point where we will part ways. There is no such situation at all" (Mujhe nahin lagta aise kisi serious mod par aaye hain ki hum alag ho jayenge. Aisi paristhiti bilkul nahin hai)
The chief minister criticized the Shiv Sena workers who had blackened the face of Sudheendra Kulkarni, who had hosted former Pakistan foreign minister Khurshid Mahmud Kasuri in Mumbai, and had prevented Pakistani singer Ghulam Ali from holding a concert.
"Ghulam Ali has been coming to Mumbai for the last 30 years, and big leaders from all political parties used to attend his concerts. Balasaheb Thackeray ji was a lover of art and he never discriminated between artistes. Had Balasaheb been alive today, his role in the Kasuri incident would also have been the same", Fadnavis said.
Asked what should have been the nature of protest against Kasuri, Fadnavis said, Shiv Sena workers could have staged protest, condemned him, showed him black flags. "The protest should have been at the right place and in a proper manner".
"Had Ghulam Ali been involved in any anti-Indian activity, they could have protested. But they are protesting only because he is a Pakistani citizen. Why such double standards - one for Ghulam Ali and another for other singers? Nobody opposes when any other Pakistani singer comes to Bombay for concert", Fadnavis said.
On providing police protection to Khurshid Mahmid Kasuri, the chief minister said: "It is a matter of state protocol. As part of government, I have to follow the 'raj dharma'. He came to India on a valid visa, you may or may not agree with his views, but the government must provide him protection".
Fadnavis pointed out that Shiv Sena MP Sanjay Raut had gone to Pakistan as part of a parliamentary delegation to Pakistan during UPA rule.  "As part of the delegation, he was given hospitality and protection in Pakistan. Does it mean he is a pro-Pakistani? Absolutely not. And as far as nationalism is concerned, we not only speak, but live it too." (Hum toh rashtravad jeetey hain, hum kewal bolte nahin hain).
The chief minister recalled how he went to Kashmir valley twice to hoist the tricolour at Lal Chowk in Srinagar, once when he was 18 years old, and later when he was 21, under the leadership of senior BJP leader Murli Manohar Joshi.
The chief minister lashed out at those who carried out the lynching of a Muslim in Bisahra village near Dadri in U.P.  "I condemn this. Those who have done this, I do not consider them as Hindus. Hinduism is not a religion, but a thought process, a culture, a way of life, which teaches us tolerance. Such an act cannot be supported in any religion."
Fadnavis said, the ban on cow slaughter in Maharashtra was in pursuance of the Directive Principles of State Policy as enunciated in the Constitution of India.
"First of all, to describe ban on cow slaughter as beef ban is very insensitive. Cow is an animal, not beef. The bill on ban on cow slaughter is Maharashtra was passed by the legislature 15 years ago, and was pending assent from the President. For the last 15 years, the President has been seeking the opinion of the government whether to give assent, and the previous governments, because of vote politics, did not respond. When our government came, we told the President to give his assent."
Fadnavis added: "It is a common misconception that farmers send their aged cows and bullocks to slaughter houses. For farmers, cows and bullocks are as good as their children. Ban on cow slaughter is in force in Maharashtra since last 70 years. We have now extended this ban to the entire bovine family."
On the ban on killing of animals during the Paryushan festival of Jain community in Mumbai, Fadnavis pointed out that the BMC (Brihanmumbai Municipal Corporation) had banned slaughter of animals for two days during Paryushan since 1995. This was extended to four days during NCP-Congress government in 2004. So this ban for four days was in force since 2004, and we are being unnecessarily crucified for no fault of ours."
On the state government not pressing for five percent reservation to Muslims in education, Fadnavis said, the High Court has stayed both the Muslim and Maratha reservation. "Moreover, there is no provision for reservation based on religion in our Constitution. So we are waiting for the final verdict from the High Court".
On the charge that his government was trying to de-recognize madrasas, Fadnavis said: "This is one more lie. The positive part of our order was that madrasas should impart teachings in English, Science, Maths and other subjects, for which the government offered to appoint and pay teachers in madrasas. Nowhere was there any mention of derecognizing madrasas."
The chief minister said, while previous governments gave hardly Rs 10-20 crores to Maulana Azad Arthik Vikas Mandal, his government gave Rs 150 crore in the very first year. "We introduced skill education for Muslims students, and I'm happy to say nearly 1,000 Muslim girls acquired skills for the first time."
Fadnavis said, his government would oppose the reopening of dance bars.  "Dance bars have spoilt the lives of many families, and have led to spurt in crimes. The state assembly had unanimously passed the law. Supreme Court has given interim stay and has allowed the government to regulate dance bars. But the state government's view is that the law is valid. That's why our government will support this law in Supreme Court."
Maharashtra CM Devendra Fadnavis in Rajat Sharma's show Aap Ki Adalat will be telecast tonight at 10 pm on India TV. Repeat telecasts will be made on Sunday October 18 at 10 am and 10 pm.