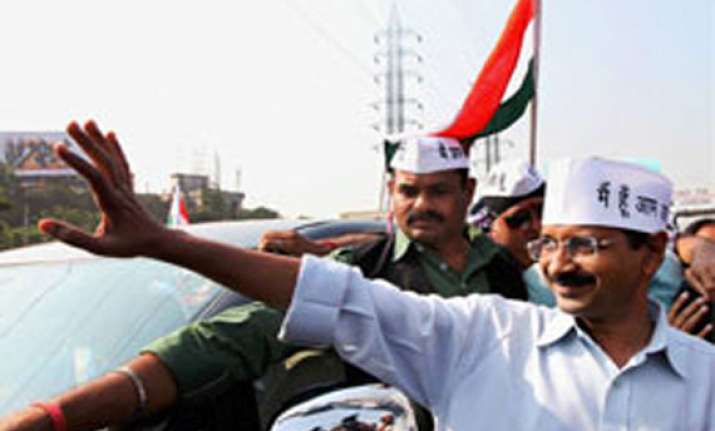 New Delhi, Dec 3 : A week after its launch, Arvind Kejriwal led-Aam Aadmi Party (AAP) today approached Election Commission for registration.
AAP National Secretary Pankaj Gupta submitted the papers regarding registration to the Commission, which will inform the party whether the documents were in order.
"Our meeting was brief. We've submitted our documents. The registration process will take around two-three months time," Gupta told reporters here.
He expressed confidence that the party will get an election symbol before the Assembly polls in Delhi next year.
After his split with Anna Hazare over the question of the anti-corruption movement taking a political plunge, Kejriwal had on November 26 formally launched AAP.
Arvind Kejriwal-led Aam Aadmi Party today joined a protest by Bhopal gas tragedy victims near the Prime Minister's office and alleged the government's agenda of wooing foreign investments is acting as a deterrent in ensuring justice for those affected.
The party's chief spokesperson Manish Sisodia took part in the protest on the 28th anniversary of the gas tragedy and said if voted to power, the party will make a law which will put guilty corporations and their officials responsible for the tragedy behind the bars.
"I think the push for attracting foreign investments is acting as a deterrent in taking strong action against the accused comapany and the politicians," Sisodia told reporters.
The Bhopal gas tragedy in December 1984, the world's worst industrial disaster, killed thousands of people, with several lakhs still suffering from the lethal consequences of the gas leak.
The protesters demanded Prime Minister Manmohan Singh's intervention to punish the guilty corporations and their officials and adequately compensate all victims.
The victims, who have been fighting for the last two decades to ensure justice, say they feel "betrayed", .
"I lost my two brothers to this gas tragedy. We have been betrayed by succesive governments. The present government seems to be more engrossed in attrcating investments than ensuring us justice. We are yet to receive proper compensation," said Moolchand, a 70-year-old victim.
The organisations representing the gas victims claimed they had met Union Finance Minister P Chidambaram, Chairman of the Group of Ministers on Bhopal, in July but the meeting yeilded no results.
"We had met Chidambaram who said he will look into the matter. But till now, there are no results. We have written 13- 14 letters to the government and want the PM to intervene", said Satinath Sarangi, the activist who spearheads the movement seeking justice for gas tragedy victims.